Ottawa-based SaaS startup accelerator L-Spark releases a report on investments in Canadian SaaS companies, signaling $1.62 billion raised in 2018.
The release of the report coincides with the third edition of Canada's largest SaaS conference, SAAS NORTH, taking place November 28-29 at the Shaw Centre in Ottawa.
According to the report, the total investment in disclosed deals in Canadian SaaS companies for 2018 was $1.62 billion with the average deal size totalling $10.3 million out of 229 deals coming mainly from 174 Canadian and American investors, but also including investors from Australia, Europe, and Israel.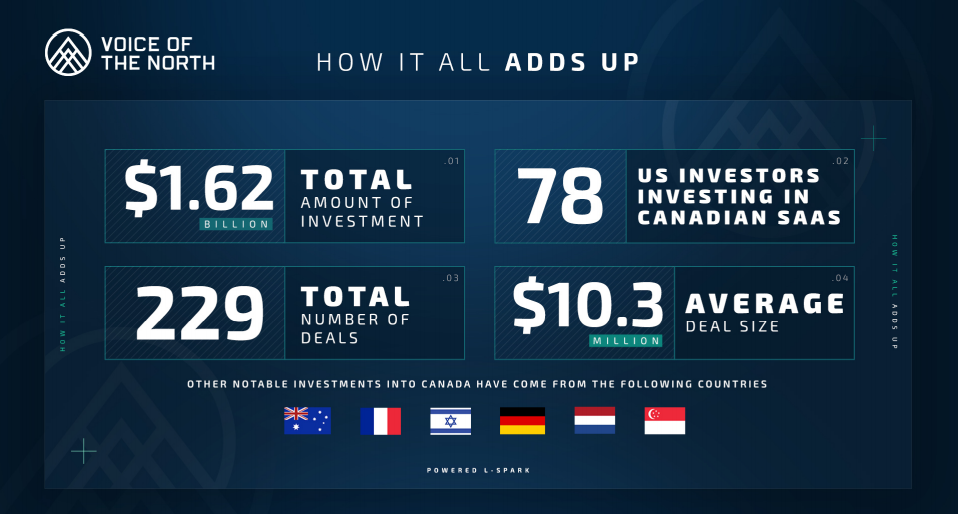 Ontario led the way in SaaS company investments with $868.8 million, followed by British Columbia with $234.9 million, and Quebec in third with $132.6, according to deals disclosed to the CVCA and Crunchbase.
Read More: 'The global stage is finally waking up to all that Ontario has to offer': Neha Khera, 500 Startups Canada
The verticals that received the most investment were marketing and sales platforms, followed by mobile apps, according to the L-Spark report.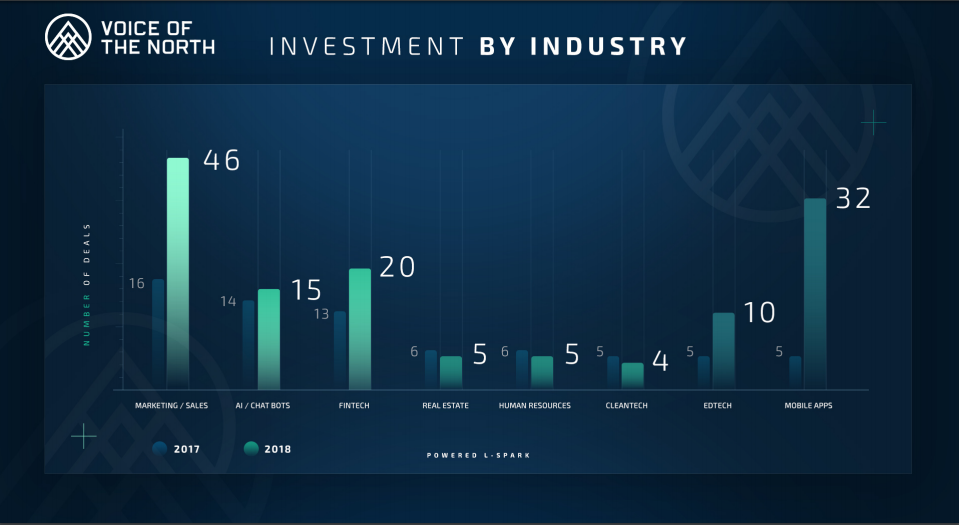 The top Canadian SaaS companies that received over $50 million in investments each in 2018 included:
The L-SPARK Accelerator propels market-ready SaaS companies to build customer traction and revenue. The BlackBerry/L-SPARK Accelerator connects startups with an MNE, BlackBerry, with the purpose of developing products on the QNX platform.
Read More: BlackBerry is combining its wisdom and tech to help accelerate small businesses
Its collective goal is to scale Canada's Best in SaaS to 10x revenue growth. L-SPARK is also deeply committed to stimulating innovation in the Canadian technology sector through corporate acceleration, thought leadership, via Voice of the North, and creating a strong SaaS startup community.
The third annual SAAS NORTH conference, produced by Cube Business Media, is taking place now from November 28-29 at the Shaw Centre in Ottawa, ON and focuses on issues to help Canadian SaaS companies scale into global markets.
Read More: Canada's Buzzing Startup Scene Attracts Executives from Twitter, Lyft and Silicon Valley Bank to Speak at SAAS NORTH 2018
Over 1,500 SaaS companies, investors and experts from all over the world are in attendance, offering valuable opportunities to grow, learn and network with key industry leaders.
Notable executives speaking at SAAS NORTH include:
Sir Terry Matthews, Chairman, Wesley Clover
Tope Awotona, Founder and CEO, Calendly
Neha Khera, Partner, 500 Startups
Allan Wille, Founder & CEO, Klipfolio
Igor Faletsky, Co-Founder & CEO, Mobify
Jeana Jorgenson, GM Partnerships, Microsoft
Dax Desilva, Founder & CEO, Lightspeed
Mark Organ, Founder & CEO, Influitive
Kerry Lui, Founder & CEO, Rubikloud
Carol Leaman, Founder & CEO, Axonify
Hannah Chaplin, Co-Founder & CEO, Receptive.io
Marie Chevrier, Founder & CEO, Sampler
Erin Crowe, CFO, Martello Technologies
Michael Litt, Co-Founder & CEO, Vidyard
Laurence Bret-Stern, CRO, Pipedrive
Featured executive level speakers include Leanne Gibson, Head of Revenue, Twitter Canada, and Aaron Zifkin, Managing Director at Lyft Canada, who will focus on building a high-performing, human-centric team. Barbara Dirks, Head of Canada, Silicon Valley Bank will explore when you should be thinking about your exit strategy, who you need on your team, key considerations for your organization, customers, and shareholders.
Disclosure: This article includes a client of an Espacio portfolio company