Ten weeks after the Horasis Global Meeting in Cascais the Horasis India Meeting will arrive in Segovia, bringing together 300 leaders to discuss India's future.
The Horasis India Meeting takes place in Segovia, Spain from June 23-24, and it is co-hosted by IE University and the Confederation of Indian Industry (CII).
Read More: 300 visionaries to discuss inspiring India's future at Horasis Meeting in Spain
Founded over a decade ago, the Horasis India Meeting provides a platform for business and government to discuss issues relating to the Indian economy. The conferences has become the foremost annual meeting of Indian business leaders and their global counterparts.
Spain's Commerce Minister Maria Reyes Maroto Iller will be welcoming participants to the conference. The Horasis India Meeting Co-Chairs also include:
Mukesh Aghi, President and CEO, US-India Strategic Partnership Forum, USA
Alissa Amico, Founder and President, Govern, France
Juan Marin Guitard, Executive Senior Vice President, Banco Santander, Spain
Kewal Handa, Chairman, Union Bank of India, India
Prakash Hinduja, Chairman Europe, Hinduja Group, Switzerland
Rajive Kaul, Past President AIMA; Chairman, Nicco Group, India
Sanjay Kirloskar, Chairman, Kirloskar Brothers; Senior Vice President, AIMA, Ind
Sunil Mehta, Chairman, Punjab National Bank, India
T V Narendran, CEO & Managing Director, Tata Steel Limited; Vice President, CII, India
Harshavardhan Neotia, President, AIMA; Chairman, Ambuja Neotia Group, India
Nasser Munjee, Chairman, Development Credit Bank, India
Dilip Piramal, Chairman, VIP Industries, India
Preetha Reddy, Vice Chairperson, Apollo Hospitals, India
Murat Seitnepesov, Chief Executive Officer, Integral Petroleum, Switzerland
Gunjan Sinha, Chairman, MetricStream, USA
Sumant Sinha, Founder and Chairman, ReNew Power Ventures, India
Ron Somers, Founder and Chief Executive Officer, India First Group, USA
Frank G. Wisner, Under Secretary of State (ret.), USA
Herbert Chen Wu, Managing Director, The Economist Global Business Review, China
The nation of India, recognized as the world's fastest growing economy, is growing at close to 8% per cent on an annualized basis. Close to all of its economic indicators suggest that the country is on the right track, with its rollout of the national goods and services tax behind it.
At the Horasis India Meeting leaders will explore Indian firms' further rise to global eminence while debating how to grow the country's economy sustainably.
Horasis Global Visions Community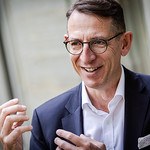 Horasis is led by Founder and Chairman Dr. Frank-Jürgen Richter. According to the founder, "Horasis is from ancient Greek meaning 'to gaze at, as in a vision."
Read More: Frank-Jürgen Richter on jointly inspiring our future ahead of Horasis Global Meeting: interview
Added Mr. Richter, "Horasis is an independent international organization committed to enact visions for a sustainable future. We call ourselves Horasis as we believe in the value of shared purpose, strategic foresight and proactive transformation. We host several large-scale meetings for the world's best known business leaders per year."