What happens when you ask customers to rate your business or service? For ShoreTel Sky, they saw a whole lot of love. That's because they created an integrated promotion and contest built around an innovative user-generated video platform called Bravo Video. Who would have thought that people could get so passionate about a business phone system?
A Simple Idea
The premise was simple. Reward customers for sharing why they chose ShoreTel Sky as their VOIP provider. $25 Amazon.com gift cards were awarded for video submissions and a grand prize of an OfficeRunner Wireless Headset System from Sennheiser was provided for the best of show submission.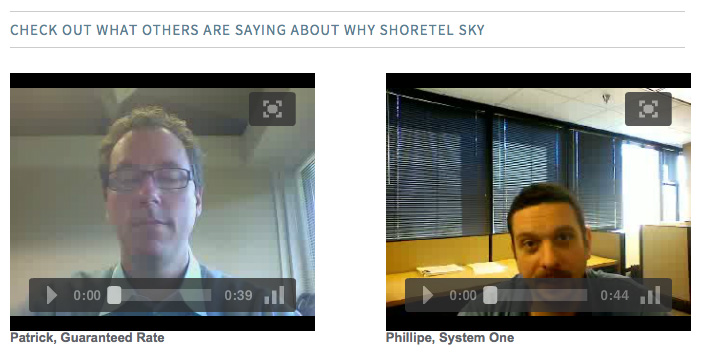 Simple To Implement
The testimonial videos help build ShoreTel Sky's brand with peer authority and business believability. ShoreTel was impressed by how detailed and directed the video comments turned out, and the video format brought a feel of honesty and integrity to the testimonials.
Because the Bravo technology lets users simply talk into their webcam to deliver a 60-second testimonial, the process was quick, easy and measurable. Plus, ShoreTel Sky was able to quickly review all videos before posting them. And as you can imagine, their legal folks appreciate that!
Simply Successful
By promoting the contest on their Facebook page, the promotion garnered 30 user-generated videos within the first few hours of launching the contest. Currently the videos are getting views on the ShoreTel Sky website and will most likely be featured on their YouTube channel to help drive extra organic search interest and attention.
Let Your Customers Sell You, In A Natural & Powerful Way
Don't let the idea of video come across as being too complex to use for gathering testimonials. Start leveraging a resource like Bravo Video (or Skype, for that matter) to let your customers use their very own words and emotions to simply share their success stories, one short video at a time.
Today's take-away?  Word-of-mouth – it's the most powerful advertising on earth.