Last night temperatures in Dublin City fell to 9 °C with 15Km/h winds but that didn't stop dozens of Ireland's international and national technology leaders from sleeping out under the stars to raise awareness of homelessness in Ireland.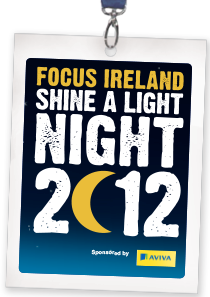 The Shine a Light event took place in the Iveagh Gardens with the aim of raising €5,000 in sponsorship in aid of Focus Ireland, the Irish charity which works to help people from becoming, remaining, or returning to homelessness.
Donations can still be made on the Shine a Light website.
The list of 60 high-profile participants reads like a who's-who of the technology sector in Ireland; including founders from some of the country's most prominent digital agencies, to representatives of some of major international companies, such as Google, Microsoft, and Dell.
Amongst them was Niall Harbison, the founder of Simply Zesty; Tracy Glynn the Head of Corporate Marketing of Realex Payments; Gerry Jones a partner with Executive Venture Partners; Microsoft's Sales Director Martin Cullen; Martin Casey the Managing Director of Arekibo Digital; Ronan Harris the Director of Google Ireland; Ann O'Dea the CEO of Silicon Republic; Dermot O'Connell the General Manager of Dell Ireland; Brian MacCraith the President of Dublin City University; and Joan Mulvihill the CEO of the Irish Internet Association.
We spoke to Martin Casey, the co-founder and Managing Director of Arekibo at 1 o'clock this morning and he said it was a privilege to take part but it would be terrible to even consider homelessness as a long-term reality.
Here's what some of the participants tweeted throughout the night.
http://twitter.com/NiallHarbison/status/259347237740625920
Irish tech sleeping out for #homeless for @FocusIreland Sponsor us http://t.co/me7MsA4f #f.ounders pic.twitter.com/pI4OtHeF

— Joan Mulvihill (@JoanMulvihill) October 19, 2012
Fantastic effort by all involved with a special THANK YOU to all participants. You can still sponsor them here http://t.co/S2s8bqQt

— FocusIreland (@FocusIreland) October 20, 2012
Huge congrats to @JoanMulvihill @realex_tracy and others on their sleepout for #shinealight. Great cause, well done all of you.

— CFO Services (@cfoservicesirl) October 20, 2012
http://twitter.com/NiallHarbison/status/259441586969120768
@FocusIreland Sleeping out in Iveagh Gardens #shinealight pic.twitter.com/FisgoOXj

— Buyers Agent (@BuyersAgentLtd) October 19, 2012
Back to normal, lucky life. Proud to have been part of #shinealight Thanks so much to the awesome @FocusIreland team. You rock!

— Ann O'Dea 🌻 (@AnnODeaSR) October 20, 2012
7.08am – home – thanks to @focusireland and team for looking after us – #shinealight

— Martin Casey (@martinjcasey) October 20, 2012
We're up and buzzing…. that was a very different taste of Dublin in Iveagh Gardens for #shinealight

— Joan Mulvihill (@JoanMulvihill) October 20, 2012
Sleep time at #shinealight really quite cold now #shivers pic.twitter.com/P4GTxfyj

— Joan Mulvihill (@JoanMulvihill) October 20, 2012
"@JoanMulvihill: #founders please support Irish tech @AnnODeaSR @Realex_Tracy sleeping outdoors tonight for #homeless http://t.co/st25RKcK"

— David Kerr (@darkdiver) October 19, 2012
Our CEO @annodeasr is sleeping rough tonight to help raise funds for @FocusIreland Not too late to sponsor her at http://t.co/8Oqo7stt

— Silicon Republic (@siliconrepublic) October 19, 2012
Am all tucked up for #shinealight quiet in the camp! Thank u sponsors & supporters! Love ya! pic.twitter.com/TGOPSRZt

— Joan Mulvihill (@JoanMulvihill) October 20, 2012
.@martinjcasey is going to sleep rough on the cold wet streets of #Dublin for a really good cause. Please sponsor him: http://t.co/SFG6UsCA

— Wayne 🇿🇼🇿🇦🇬🇧🇺🇸 (@waynenobes) October 12, 2012
http://twitter.com/realex_tracy/status/259446684545843200
Featured image by @buyersagentltd