On many occasions, gift cards have provided gift givers a fantastic opportunity to give something special without risking time, money and effort on a single item which might end up sitting in a recipient's cupboard collecting dust. And for recipients of gift cards, it can be an excellent opportunity to buy something we really want or need thanks to the care and appreciation of a loved one.
However, gift cards have not always existed in the form that we know them as now, and thanks to evolving technology and trends, their days of sitting in our wallets before being handed over to a cashier are numbered. The conventional processes of exchanging physical cash for a physical gift card has transformed into virtual cash being exchanged for a virtual gift card. For example, Coinbase recently announced that is teaming up with WeGift to allow customers in Europe and Australia to convert their cryptocurrency into e-gift cards.
To get a better understanding of the modern world of gift cards and what the future holds, we spoke with Shaul Weisband, Co-Founder, and CMO of Jifiti, a startup redefining retail experiences with unparalleled data & technology consumer financing, eGifting, gift cards and gift registry solutions.
Weisband explains that "Gift cards went from paper certificates (started by Neiman Marcus and Blockbuster, but was destroyed by fraud when color printers became widespread), to plastic to digital. As of 2018, retail gift cards has grown to a $160B market annually in the US.  The explosion in gift card growth is due to the challenges in gifting – knowing what a person wants, product details such as size/color/style, and knowing a shipping address. These barriers made gift cards the most convenient and easy gift. Gift cards have also become the most requested gift during the holiday season – due to the flexibility they offer and recipients not needing to get stuck with something they don't want or need to return. Our surveys and focus groups have shown that while 86% of consumers prefer to send a real and thoughtful gift, they still prefer to receive a gift card."
And Weisband has high hopes for the future of gift cards stating "We expect to see the future of gift cards in two verticals – Firstly, making them more personal and thoughtful. An example of this is the product-based e-gift cards that Jifiti launched with Nike. If until now digital gift cards were 'amount-based' and basically said 'I love you $50, here is a 16 digit number to buy something', the Nike product-based gift card functionality allows shoppers to transform any product into a customized e-gift card and send it instantly via email. That way the sender and recipient still have the flexibility of a digital gift card, but it's all about the product that the sender thought the recipient would like to receive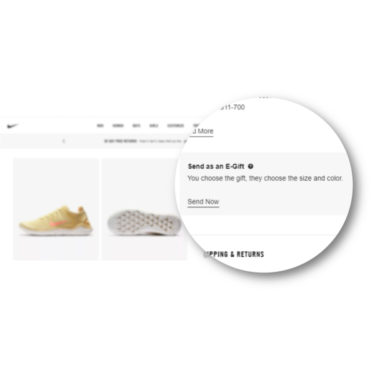 "Secondly, utilizing gift card systems for other use cases. I wrote about how Starbucks is utilizing their own gift card system and still is the leader in mobile payments using their own gift card platform. Another example is gift registry – retailers such as IKEA and Nebraska Furniture Mart have their entire gift registry platform based on a gift card system – gifts purchased on the registry can be applied to a digital gift card for the registrants to redeem at their own convenience," he adds.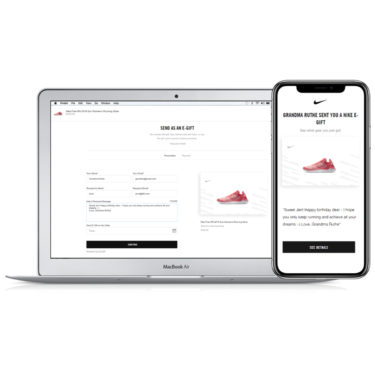 Evidently, the gift card is far from dead. As this well-established gift idea moves into the future with modern technology, it is likely to evolve into a new paradigm, with recipients ready to use them online opposed to sitting in someone's wallet until it is physically used or expires.