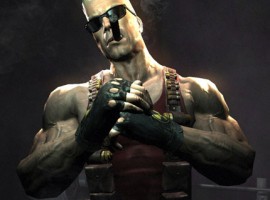 Duke Nukem Forever, its been a long wait, hasn't it?
But today  Gearbox Software and 2K Games announced that we will finally get our grubby mitts on the game, 14 years (yes you read that correctly) after it was first announced.
The game will be released on May 6th (May 3rd in the States) after nearly a decade and a half of development.
Xbox 360, PlayStation 3 and PC gamers will have to save for world from alien hordes, "pig cops, alien shrink rays and enormous alien bosses none of which can stop our hero from accomplishing his one and only goal: to save the world, save the babes and to be a bad-ass while doing it. The King arrives with an arsenal of over-the-top weapons, non-stop action, and unprecedented levels of interactivity. This game puts the pedal to the metal and tongue firmly in cheek. Shoot hoops, lift weights, read adult magazines, draw crude messages on whiteboards or ogle the many hot women that occupy Duke's life – that is if you can pull yourself away long enough from destroying alien invaders. Duke Nukem was and will forever be a gaming icon, and this is his legend."
An almost releaved 3D Realms took Gearbox's announcement as an opportunity to wash their hands the Duke, they said on their site, "Hail to the king, baby! 2K Games and Gearbox Software today announced that Duke Nukem Forever will make its long-awaited debut in 2011, when it will ship on Xbox 360, PlayStation 3 and PC. With this news, we are closing our Duke forums."
The game has lost none of its charm in the last decade and a half, Duke Nukem is still as violent, sexist and crude as we just about remember,  although we will have to see if this will be enough to make it worth the effort.  Have a look at the trailer (for over 18s only).