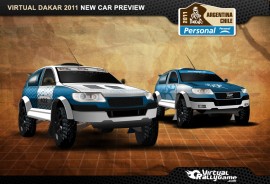 The 2011 Dakar Rally has begun, and while the action is taking place in Argentina and Chile this year that doesn't mean that you cant take part.
Like last year, the organisers of the race have launched a virtual online rally game. The free online game takes place in a simulated version of the rally route, complete with forests, deserts and mountains, that can be navigated in either a motorbike or rally car.
The game plays something like a turn-based RPG, where you chose certain details such as speed, route and tyre type, and this information is used to work out how well your driver and vehicle will manage the terrain. Players will also have to manage hazards along the way, including driver fatigue and mechanical failure.
Each stage of the race is open to play, but users must be ready by 12:30 am Paris time (11:30pm GMT) to take part in the competition.
In order to be accessible to most of the players, each stage will start at 12:30am, Paris / 8:30am Buenos Aires, each day of the race.

You will be able to preprare the first Practice Stage from tomorrow at 10:00am Paris / 6:00am Buenos Aires.

You will also be able to prepare the next stage as soon as you've crossed the finish line !