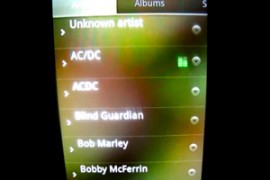 Leaked video footage [0:50] of the new Android Music app has emerged, offering a glimpse of some of the user interface features we can expect in Android 3.0.
The video, which was spotted by Engadget, demos some of the new Music app features already revealed at this year's Google I/O. The all-new Music app will allow users to push web-purchased songs to their Android device, and also play songs wirelessly on their Android handset from a desktop music library.
The app is expected to launch with Android 3.0, or Honeycomb, and is another push by Google to become competitive in the music realm. What this video most provides is an insight into the new UI and usability improvements we can expect in Honeycomb. Share your thoughts in the comments.