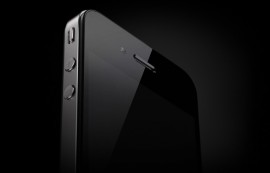 As Nokia and Microsoft were announcing their "broad strategic partnership" which will introduce Windows Phone 7 as Nokia's principle operating system (as widely rumoured) Apple was evading rumors that the company will introduce an entry-level iPhone along with the release of the iPhone 5 this year.
Quoting "people who have been briefed on the plans" Bloomberg reports that Apple has already issued a prototype of the iPhone "nano."
The creation of such a phone would be inline with Apple's policy of creating several versions of the one device for different market segmentations. In a similar fashion to the iPod Nano and iPod shuffle the, so called, iPhone Nano would offer fewer capabilities (e.g. WiFi only internet) than its larger predecessor but would be aimed at the entry-level smartphone market.
Reports from people who have, reportedly, seen the new phone say that it will not have the iconic "home" button and will be about a third smaller than the iPhone 4. The processor and internal components will be based on the iPhone 4 and not the newer iPhone 5.
The device is said to be smaller and the iPhone 4 and will be cheaper, bringing the iPhone brand in rage of more users. The phones would also likely be sold without being tied to expensive 3G data-plans. Speaking to Bloomberg Charlie Wolf of asset management company Needham & Co outlined Apple's logic for releasing such a device "Instead of targeting 25 percent of the global mobile- phone market, Apple would be going after 100 percent."
With the move from the familiar Symbian OS to the new Windows Phone 7 loyal Nokia users may be inclined to ditch their familiar brand and move towards Apple's system. However, Apple may not be too concerned that Microsoft and Nokia's partnership; a move towards creating a basic level iPhone my be aimed at halting Google's Android system, which this week overtook Nokia as the leading mobile OS.