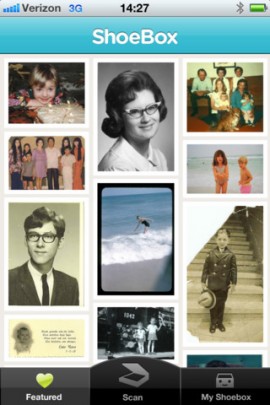 A new mobile app, Shoebox, lets you scan and archive old photographs using your phone's built-in camera. The app has been released by 1000memories, a service that allows users to collect and share memories online.
Shoebox, however, is not just a simple photo-sharing service. When scanning old photographs with your device's camera, the app detects edges and corrects perspective automatically. After scanning, users can crop, straighten or rotate images, as well as add written annotations like captions, dates and tags to record the often hidden stories behind old photographs.
A copy of each scan is stored on the user's device, but also uploaded to 1000memories where they can be shared with family and friends. A partnership with the Internet Archive all but guarantees digitised material will be stored forever on 1000memories.
The app's makers want old hidden memories to be celebrated online,
"Our mission is to bring the albums, scrapbooks, and photo-filled "shoeboxes" of our lives out of the closet and into an online, shareable space where they can be remembered and celebrated, together in one place".
What about image quality? Images scanned on devices with 8-megapixel cameras, like the new iPhone 4S, are comparable to results achieved using dedicated and clunky hardware scanners.
Both the Shoebox app and the 1000memories service are completely free. Shoebox for iPhone launched last week, with an Android version in the works.