Last month marked the first time an organ was delivered to a patient via a drone, which utilized the combined knowledge of experts across various industries.
https://www.youtube.com/watch?v=RNYCCbCpAlM
The success of drones transporting medical supplies is giving birth to an entire industry. The future of organ transporting and transplanting is here, and it's going to create exciting new jobs.
Surgeons at the University of Maryland Medical Center (UMMC) were relieved when on April 19, a donor's kidney was flown in through a drone. The kidney was delivered to them from a hospital around three miles away. The kidney transplant for the 44-year-old woman patient was successful.
This first time feat was a team effort with medical personnel like transplant physicians and researchers at the University of Maryland School of Medicine (UMSOM) and the UMMC, joining hands with aviation and engineering experts at the Unmanned Aircraft Systems (UAS) Test Site.
As the team prepared for every contingency to make their mission a success, they employed a fleet of personnel from medical and engineering to organ procurement specialists, pilots, and nurses.
According to 2018 data from the United Network for Organ Sharing (UNOS), which manages the organ transplant system in the US, almost 114,000 people were on waiting lists for an organ transplant, 36,500 transplants were done, and about 30,000 organs came from deceased donors.
Drone technology will improve these numbers, and in its wake, create opportunities for drone and medical experts to enter each other's fields.
According to the World Economic Forum's 2018 The Future of Jobs Report, new technologies have the potential to create new high-quality jobs and vastly improve the job quality and productivity of the existing work of human employees.
"As has been the case throughout economic history, such augmentation of existing jobs through technology is expected to create wholly new tasks—from app development to piloting drones to remotely monitoring patient health to certified care workers—opening up opportunities for an entirely new range of livelihoods for workers," it says.
Organ Transport Specific to Drone Testing
If a drone flight goes wrong, a healthy donor organ can be lost, which means lives can be at stake. Hence, it is imperative that such flights are tested prior to application.
Prior to the UMMC kidney transplant, a whole team tested the drone system by transporting saline, blood tubes, and other materials between the launch site and the hospital helipad. Also, the flight took place in an urban environment, over a densely-populated area.
This could mean, jobs for medical drone testers could sprout up, where medical personnel approve of the machine and engineers ensure a safe flight.
Organ Transportation Logistics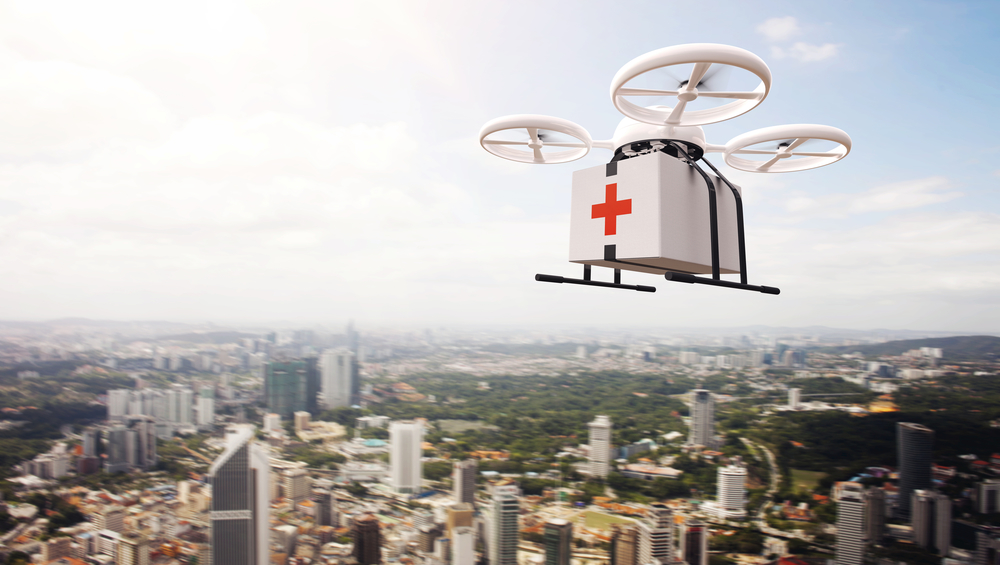 Studies show that the quality of organ transport determines the success or failure of a transplant recipient. It should be done as soon as possible, because the longer the organ is underway, the lower the quality of the donor organ.
Dr. Joseph Scalea, MD, Assistant Professor of Surgery at UMSOM, who is the project leader and one of the surgeons who performed the transplant at UMMC, told UMMC News, that the current organ transplant process faces problems of inefficient transportation logistics.
Read More: 5 Ways drones are transforming life across the planet
This can include expensive chartered flights, dependency on commercial flight schedules, and delays that destroy the organ's viability. At times, the organ has even been left on a plane.
Looking at how much depends on the logistics of organ transplant delivery, this is a field worth investing in. To achieve this, hospitals can set up teams dedicated to organ transport via drones, limiting the number of times the organ changes hands, hence preventing mishaps. On the other hand, drone companies can set up teams dedicated to organ transport logistics.
Customized Drones for Organs
To successfully transport the kidney, the UMMC project needed a tailor-made unmanned aircraft. UAS test site engineers built the aircraft, adhering to strict medical, technical, and regulatory demands of carrying an unaccompanied deceased donor organ for human transplant.
Building such special UAVs could become a special branch of drone manufacturing. According to research, engineers are already the most sought after in the drone industry both by platform manufacturers and by software companies. Engineers dedicated to building complex unmanned aircrafts that can carry organs could soon be sought.
Organ Tracking
While IoT has developed technology to track an organ in transit, surprisingly, it is still not very prevalent. Ineptitude in the current system is pushing medical drones to build solutions with optimum use in the context of organ transport.
In fact, organ tracking was a critical part of the UMMC team's mission. The team used the Human Organ Monitoring and Quality Assurance Apparatus for Long-Distance Travel (HOMAL; patent pending), which was planned specially for this project.
Dr. Scalea collaborated with many medical technology companies to come up with the machine, which measures temperature, barometric pressure, altitude, vibration, and location through global positioning system while transporting. Transplant personnel were able to monitor the parameters on their smartphones.
Read More: Vibrational waves have power to transform medical, auto, IoT industries: report
Matthew Scassero, MPA, Director of the UAS Test Site and Co-Principal Investigator of the research told UMMC News, "We had to create something that was still within the regulatory structure of the Federal Aviation Administration (FAA), but can carry more weight, for a longer distance."
The aircraft also had to be strong enough to carry cameras, organ tracking communications, and safety systems. Also, the aircraft prototype used had safeguards like backup propellers, backup motors, dual batteries, a backup power distribution board and, in case of total aircraft failure, a parachute recovery system.
With so much information to monitor and comprehend, tracking organs during transit could be an entire task for both engineering and medical personnel involved.
Further Development
Medical drones could bridge the gap between the number of recipients on the organ transplant waiting list and the total number of transplantable organs, increasing the size of the donor organ pool and access to transplantation.
Further innovation in this field could give rise to a bevy of jobs within healthcare and engineering sectors, which include specialized lawyers, insurance inspectors, as well as Air Traffic Controllers. We might be seeing a whole fleet of ambulance drones soon. Research can transform this field for flawless delivery of transplant organs, resulting in high quality patient care.