Speaking at LeWeb in London last month many of the social web's biggest and brightest spent much of their time describing how they had evolved past simple social sites to become content discovery platforms.  If you're not sure what they mean then have a look at these updates released by Google+, Twitter and 500px in the past few days.

Today Google announced that the public-beta tests for its latest +1 button updates will be officially released.  This latest update integrates content recommendations in to the +1 button for all sites. So, when you hover over the +1 button on any site Google will display a screen that shows other content that your friends have recommended on the site.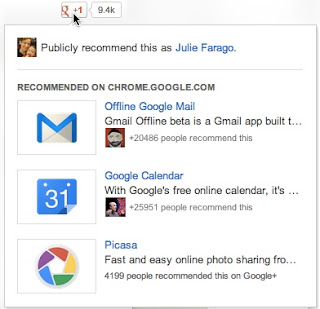 While Google is mining your friends' +1s to recommend content Twitter is scraping the content from links you tweet.  Using the "expanded tweets" system the company released last year for images the expanded area now includes website text, video and other media taken directly from websites users link to.  Twitter has been rolling out this service, which they describe as an "easy new way to discover content from the web," over the past few months.
This comes as the company released an improved search system which it describes as part of its plan to make Twitter the "simplest way to discover what's happening in real time."  Twitter now provides users with search spell correction, query auto-completion, and related search recommendations.  As well as that, Twitter now allows users to search for keywords their friends are tweeting.
Search is simpler with autocomplete, results from only people you follow and more http://t.co/vJAD3mt8

— Twitter (@Twitter) July 6, 2012
Also today, 500px – one of the fastest growing photography communities – announced that it had acquired its first company, Algo Anywhere (Darren has more on this over here).  The reason for Algo Anywhere's acquisition was its Recommender Algo platform, a realtime personalised content recommendation system which was designed to deliver "increased customer engagement, improved time-on-site, and increased revenue."
500px says that Algo Anywhere's Zach Aysan and Adam Gravitis will become the company's Chief Data Scientist and Chief Software Architect respectively.  They will work to deliver greater levels of content discovery through improved search on the site and better image filtration.
So, why the emphasis on discovery? In the case of 500px and Twitter they want you to remain on the site and explore more of the other users' content.  As for Google, it's harder to say.  It's probably hoped that by adding content recommendations Google will encourage users to +1 and share content on the site.  Google probably also hopes that the content recommendation system will encourage web developers and website owners to better integrate the +1 button into their websites.
In all cases, encouraging us to discover existing content on our favourite social networks marks a change in the development of the social web.  Sites are no longer concentrating solely on user acquisition (well, Facebook is about to pass 1 billion users) but on providing richer user experiences.