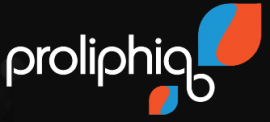 Ok, so we're going to be honest, Proliphiq (@proliphiq | Facebook) is a hard word to say when you first lay eyes on it.  But behind these Ps and Qs lies a smart and ingenious app that has the potential to make your social media monitoring and social searching more productive and more fun.
Creating signal from noise
Proliphiq describes itself as "The New Search Engine for Sources of Real-Time News" but this is perhaps under selling it a bit.  Proliphiq is not only a real-time search engine but in fact a unique crowdsourced sentiment analysis system.  Proliphiq works by allowing social media users to tag others' accounts according to various categories (imagine being able to create Google+ circles for users across different social networks and then being able to share these with other users), these user-generated categories, comments, and tags can then be used to filter through Twitter, Facebook, LinkedIn, and YouTube accounts to find thought leaders, influencers, authorities and other people of interest in specific areas.
Similarly for tending topics users can filter through other social media users to discover influential people who are discussing that topic.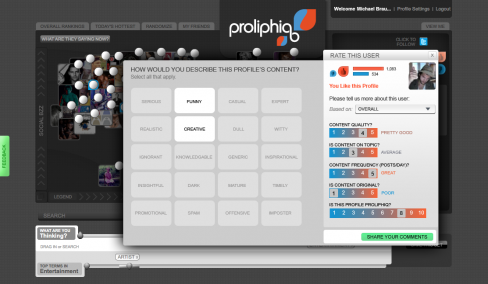 Even before its launch Proliphiq  has indexed over 12 million public social media accounts from services such as Facebook, Twitter, LinkedIn and YouTube; and number is likely to grow before the official release in October.  There are already plans to include Google+ now that the API has been launched and the signup process has been opened to the public.
According to Proliphiq, "Each individual's authority is ranked according to their interaction, the community's opinion of them and the size of their audience across social media platforms like Twitter, Facebook and YouTube. In addition to providing visibility to users' rating and review content, Proliphiq rankings are more insightful to users than other sites because, rather than giving each person a generic score, each person is compared within the context of all other users. Rankings help users see how they rank overall within a subject, inspiring them to become credible resources.

"The unique ranking system also promotes the importance of becoming a credible source, inspiring users to rethink the way they utilize their social networks.
Indeed, in what will probably become one of the most addictive features of the site users will be able to compare their own social profile with those of others.  Think of it as a more democratic Klout Score, where your influence and reach are voted on by your peers.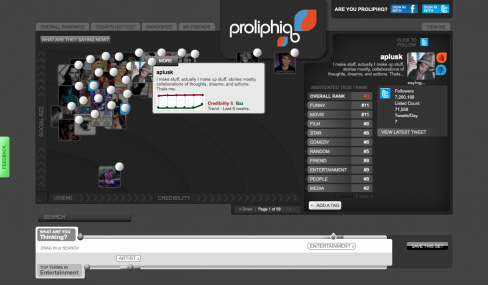 Sentiment analysis that is about people
But this crowdsourced user tagging and filtering system is not about data management, it's about identifying the best users and the best sources on the social web.  Comments and filters are visible to the public, allowing other users to see and filter according to these metrics.  For social media monitors this means that you can really get a sense of the users who are leading the conversations (both good and bad) about your brand.  And more importantly (from our point of view) for journalists Proliphiq can help find authoritative sources and leads.
It is this need to find authoritative sources which led to Proliphiq's creation.  According to the company's CEO, Adam Roozen, Proliphiq came from a need to identify quality sources over the huge quantity of data on the social web, Roozen says, "As fast as social media is growing it is not growing as fast as it could, simply because it is very complicated for new users.  Proliphiq will become the starting point for new users who will be able to see which people are important or relevant.  There is a need for a market place of quality users."
Don't let the term market place fool you; this is no dry Amazon-style website.  Last week we were given a sneak peak at the app and the interface is simply gorgeous, and brings sense of gameplay (dare we even say gamification) to what could otherwise be an un-entertaining task of filtering data.  The interface pops and zooms like something out of Minority Report and in a way that hints at the slick smartphone and tablet apps which are to launch soon.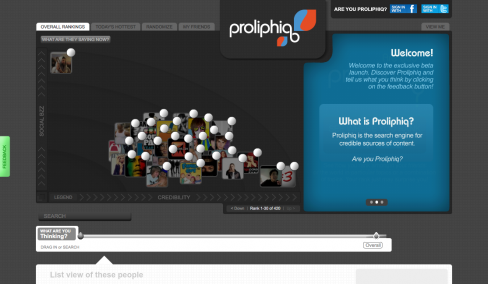 As a mix of social search and Google+-style filtering Proliphiq bring new depth to the maligned realisation of sentiment analysis, which has become a contentious topic for many social media monitors.  Rather than depending on a heartless algorithm to attempt to understand sentiment on the social web Proliphiq asks social media to assess this social data and its creators.
Our look at Proliphiq hints at at web app that is rich in features and potential and one that will be of interest to the casual reader user and enterprise-level clients.  Proliphiq is one to watch.
Proliphiq's public launch will take place in late October and is only the start of a number of features Roozen is bringing to the site over the next number of months. But if you want early access you can register on the site now.