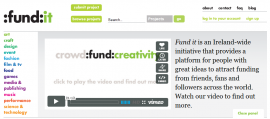 "The Year of Magical Wanking", a play by  performance company THISISPOPBABY and Neil Watkins is just one of the initial set of groups looking for funding in Ireland's first crowdfunding network, Fund:it.
The site encourages social networking users and others to donate small amounts of money to groups and organisations who wish to set up arts or technology projects in Ireland.  As with other crowdfunding networks Fund:it sets a minimum monetary total and a time limit for each project, if a project fails to reach or exceed its target the funding will not go through.
As with other similar site Fund:it uses an reward scale to encourage donations from the public. Depending on the amount of the donation funders will receive differing recognition in the performance or project that they give money to.  For example, a person who donates more than €10 to "The Year of Magical Wanking" will be rewarded with their name on the show's programme as "Official Magic Maker." They will also be given "A magical hug from Neil Watkins."  People who donate over €500 will get the same along with a signed script and exclusive invitations to rehearsals, opening performances and more besides.
The play, which is described as "a heartbreaking and inspiring state of the nation performance by one of Ireland's most electrifying artists", is looking to raise €6,000 so it can be staged at this year's ABSOLUT Fringe arts festival in September.  The widely acclaimed group has raised €45 in the past few hours from 3 doners – the project has 41 days to collect the funds.
Among the first groups looking for funding The Irish Museum of Modern Art is the highest profile organisation. IMMA is looking for €4,800 to expand the museum's permanent collection.  They want to buy four pieces of work by Dublin-based artist  Bea McMahon. The museum has, so far, raised €10 with under 27 days to go.

Other projects looking for funding include Temple Bar's Monster Truck Gallery who want to install a 24 hour high quality projection screen in the gallery's window.  The project has so far raised €145 (up from €35 since we started writing this) and has 41 days to go with a target budget of €5,000.

Fund:it is an initiative by Business to Arts Limited Ireland, an organisation that encourages the business and arts communities to work together. Fund:it itself was part funded by The Department of Arts, Sport and Tourism's Cultural Tourism Technology grant.