The roll out of Facebook user Timelines internationally has caused immense confusion among users today, with many believing that private messages have been posted publicly on the site. The confusion comes just days after Facebook was given a glowing report for user privacy and data protection in Europe.
The issue came to light when a French newspaper, Le Monde, reported that private messages sent after 2008 were visible in summary boxes on users' timelines.  However, TechCrunch reports that Facebook says the posts in question were always visible on users' walls, "Our engineers investigated these reports and found that the messages were older wall posts that had always been visible on the users' profile pages. Facebook is satisfied that there has been no breach of user privacy."
The reports seem to highlight how Facebook has changed over the past five years.  Back around 2007 Facebook users were not able to respond to other users' updates by commenting, but instead needed to respond by posting an update on their friends' walls.  It is this which seems to have given the impression that a private message conversation was taking place between users.
If you are concerned, and want to put your mind at rest, there is a way to see how your timeline looks to your friends.
View your profile as your friends do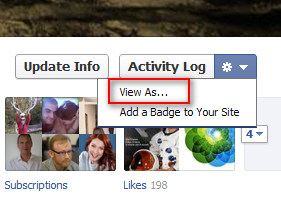 If you want to see your Facebook Timeline as your friends do, you can do so using Facebook's "View as" system.  This lets you view in the guise of any of your friends.

To do this go to your timeline and select the cog icon (beside the "Messages" link on the right under your banner image) and then click "View as".
This will bring you to a page that looks like your timeline but with an added box on the top with this text;
"This is how your timeline looks to the public, including subscribers.

Use this tool to see how your timeline appears to a specific friend or the public. Remember: you can always change who can see any post that appears on your timeline."

With this box you will be able to input the name of a friend and then view your own profile
as if you are them.  Once you enter their name the page will refresh.  From here you can select one of the years on the right.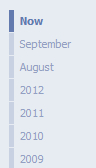 If you select 2010 you will be shown your profile from 2010 along with a box, on the right, showing updates friends have posted on your wall.  You will need to scroll down this list to see if any of the updates include private messages.  What you can do is open your Facebook private messages page in a new tab and check the updates in the "Friends" box against private messages in your inbox.

A misunderstanding
Facebook says it is confident that the reports are a misunderstanding and that no private information was released publically, or to users' friends.