Twitter is getting close to choosing its Dublin office, if data from the Companies Registrations Office is to be believed.
In a submission to the CRO on October 13 Twitter International Company changed their registered address from "70 Sir John Rogerson's Quay ", a holding address likely belonging to Twitter's Irish lawyers, to "C/O BDO Beaux Lane House Mercer Street Lower, Dublin 2 Ireland."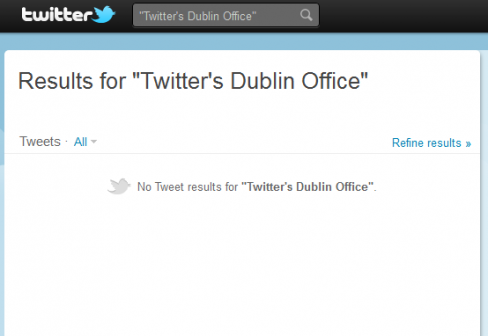 BDO is an accountancy company that specialises in helping large and international companies comply with Irish law.  BDO lists its activities as outsourcing, real estate, corporate governance, financial reporting, and consultancy, among others;
"We were the first Irish accountancy firm to qualify for registration with the Public Company Accounting Oversight Board (PCAOB), which is now a prerequisite for any firm that provides, or wishes to provide, auditing services to US listed companies and their Irish-based subsidiaries."
The company operates a specialized 'Technology, Media & Telecoms' team which "is dedicated to ensuring your strategic objectives are given the same attention as daily operational demands."
This team advises on areas such as;
Audit and Advisory
Corporate Finance
Corporate Recovery Advice
Mergers and Acquisitions
Commercial due diligence
Compliance and risk
Revenue recognition issues
Research & Development costs and tax credits
Initial public offerings
Expatriate tax, incentives and rewards
Corporate structuring
Cross border transactions
Speaking last month, when Twitter announced its plans to base an office in the city, it did not specify where this would be located, although Ireland's Silicon Republic believes the company will likely join Google, Zynga, and Facebook in the D2/D4 post code.
Twitter is moving quite fast with its Irish operations, only last week it posted its first Dublin job on its careers site. Twitter's Dublin offices will be responsible for financial, user support, and marketing matters.