Some 57% of Amazon retail and distribution employees want to unionize while 39% of Amazon's tech workers wish the same.
The survey was carried out by anonymous community application for the workplace, Blind.  It found that 39% of Amazon tech employees want to unionize.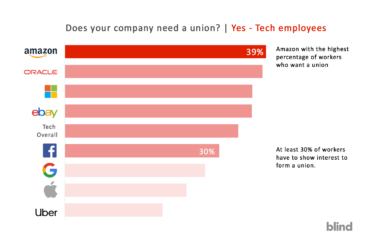 There is a further breakdown between tech workers and blue collar staff in Amazon's distribution centers.  In excess of 57% of Amazon Distribution Center workers have shown a desire to form a union.
Amazon is one of the largest employers in the US of white collar employees – together with 100's of thousands of blue collar workers in fulfillment centers.
According to the data, 70.9% of Retail and Distribution Center employees in the overall tech industry stated that they need a union.
---
An Amazon spokesperson reached out to The Sociable shortly after the publication of this article to deliver the following statement:
"Social media surveys such as this are just click-bait fodder and are not demonstrative of the opinions of the hundreds of thousands Amazon associates across the globe. For example, in Minnesota roughly 15 associates participated in the event on Prime Day outside of the Shakopee fulfillment center organized by uninformed outside parties. Our employees know that we already offer the things unions purport to be their cause: a safe work environment, industry-leading pay, and opportunities for career mobility."
---
Worker Dissatisfaction
It seems that there are separate causes of discontent underlying the two groupings' (tech workers and distribution center workers) desire to organize labor.
Read More: Kickstarter's unionizing demand may spark knowledge workers' quest for a seat at the table
Amazon Prime Day is an annual shopping holiday conceived by Amazon and facilitated for their Prime subscription based customers.  This year, it was launched on July 15, with deals made available to shoppers for up to 36 hours.
Midway through Prime Day, some workers at Amazon's distribution center in Shakopee, Minnesota, walked out.  The objective of the action was to draw attention to working conditions.  Workers claim that existing conditions are leading to injuries, due to performance expectations in carrying out tasks – particularly so with regard to speed.  As a consequence, the workers were demanding the right to organize labor.
Those that walked out accounted for just a small proportion of the overall workforce.  However, in Germany, as many as 2,000 employees walked out in demanding improved working conditions and pay.
Television host John Oliver drew attention to the plight of Amazon distribution center workers in a feature which was run on his 'Last Week Tonight' show on HBO in recent weeks.  The show highlighted a correlation between the rate of reduction in retail employment and rise in warehouse workers in recent years.  Evidently this is the result of the continuing shift towards e-commerce.
However, Amazon's dominance has led to increased competitive pressures.  The company has increased pay rates but there are other issues.
As Oliver put it, "Amazon is the industry trendsetter."
"They're the Michael Jackson of shipping: they're the best at what they do, everyone tries to imitate them, and nobody who learns a third thing about them are happy that they did."
Accounts were provided that attested to the work being "physically draining" for employees.  An example was provided by one Amazon worker who regularly had to walk 15 miles in the course of his work over a 10-hour shift.
The relentless pace has led to lawsuits, with seven such legal actions having been taken by pregnant workers.  Work pressures are such that staff complain of not having sufficient time for bathroom breaks.  As Oliver put it, "When people shorten their time in the bathroom, they don't shorten the bathroom part, they shorten the hand-washing part."
Senator Elizabeth Warren tweeted in support of the workers:
I fully support Amazon workers' Prime Day strike. Their fight for safe and reliable jobs is another reminder that we must come together to hold big corporations accountable. https://t.co/ZkDDt9zeHv

— Elizabeth Warren (@ewarren) July 15, 2019
Tech Worker Empowerment
The case of tech workers is different.  A lesser proportion of tech workers want to organize labor as opposed to fulfilment center workers.  Their cause for complaint has been somewhat different.
Furthermore, for this grouping, the disaffection is not confined to Amazon but implicates most of the larger tech companies including Google, Facebook, Microsoft and Salesforce.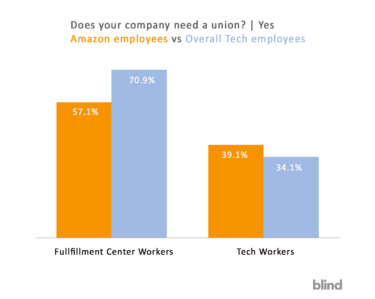 Google and Amazon employees have forced management to take a more ethical approach to the use of artificial intelligence technology.
Last year, 20,000 employees at Google walked out in dissent with regard to the manner in which the company handles cases of sexual harassment.
The cause for complaint differs between the two groups yet implicates the same employers.  It's a new challenge that they face as employers.  This assertion has not been seen from tech workers heretofore for the most part.
For fulfillment center workers, there are implications for society as well as for Amazon and others that form part of the e-commerce revolution.  This convenience of having things brought to us, yet at a lower cost may be having consequences for a less empowered workforce.
As Oliver points out, a system has been created that "squeezes the people lowest on the ladder hard."
---
Article updated at 6:45PM ET to include Amazon's statement.