As the world continues to expand through globalization, so has our desire to communicate. Apps such as Whatsapp and Skype have made communication around the world far easier than ever before. However, the telephone, one of mankind's greatest achievements in the history of communication, is still far behind other forms of technology for international calling and connecting to the overall world. International calls are famous for being very expensive, often costing an obscene amount with service providers.  Yet, there are companies looking to change this, making traditional telephone calls cheaper to international countries.
Vodafone India recently announced a deal offering an International Roaming Pack for 180 rupees per day across 20 countries, and Vodafone isn't the only one shaking up the telephone industry. Miami based NETtalk, an established figure in the VOIP industry  which aims to reinvent the landline telephone, recently released its NetTALK ezLINQ, a Mini WiFi Router with VoIP allowing users to make crystal clear calls over the Internet using any standard handset phone.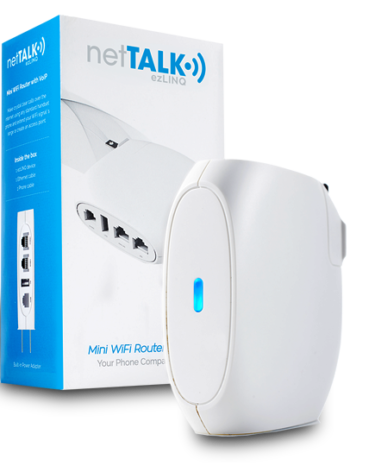 ezLINQ is unique in that the compact and portable device connects wirelessly (or wired) to a router and any standard phone. This enables users to make free calls to landlines and cell phones throughout the US and Canada. Unlimited calls can also be made between all netTALK subscribers worldwide. ezLINQ features include a built-in power adapter, advanced noise reduction voice tech, real-time Fax and a netTALK companion mobile app to help set up the service in under two minutes.
The companion app also allows one to make and receive calls on their smartphone – thus providing true mobility of one's home number worldwide. With an included USB charging port, the device can be used for charging and to share files on the cloud or stream movies to smart TV's. Thanks to multiple router operating modes, ezLINQ also creates a Wifi network and can also serve as a range extender for internet dead spots in a home or office.
The product is designed for businesses that operate with remote customers or have customers scattered across different locations and want to have a local number. Using the ezLINQ, user will be able to easily make or receive calls from those desired locations. This technology has already been adopted by businesses such as Norweigan Cruise Lines that have rolled out the technology on a large number of its ships.
Alternatively, the device can be used for consumers such as expats or digital nomads that frequently make international calls. For example, if a digital nomad decides to settle in say Thailand, they can remain in contact with clients, centralizing their calls through their ezLINQ with local numbers. On the other hand, for an expat living in somewhere such as Colombia, for example, they could stay connected with their family overseas and even call their grandparents (they might not keep up with your technology, but at least you can stay connected with theirs).
"Our vision has always been to create a cutting edge and ultra-low cost smarter home phone solution," says Anastasios "Takis" Kyriakides, Chairman at netTALK. "We focused on 'ease of use' and 'speed' on our next generation ezLINQ, and we guarantee you can activate your full featured phone service in a couple of minutes."
As the company's step by step guide demonstrates, it is easy to set up and calls can be made internationally in a matter of minutes, so now there is no reason not to call your mom more often!