The US Intelligence Community (IC), including the CIA, FBI, NSA, and others cannot keep up with the amount of Freedom of Information Act (FOIA) requests due to a lack of organization and inadequate tech.
"The IC is not making use of all available technology to support FOIA programs, and there is no consolidated IC-wide approach to technology application," reads a report by the Intelligence Community Inspector General.
Read More: ACLU files FOIA request demanding DHS, ICE reveal how they use Amazon Rekognition
The report was first produced last September, but was only made publicly available last week.
Intelligence agencies that are unable to keep up with FOIA requests include:
Central Intelligence Agency (CIA)
Federal Bureau of Investigation (FBI)
National Security Agency (NSA)
Defense Intelligence Agency (DIA)
National Geospatial-Intelligence Agency (NGA)
National Reconnassaince Office (NRO)
Office of the Director of National Intelligence (ODNI)
Read More: US defense intelligence warns of AI-human hybrid soldiers from China
"The programs are not supported by adequate technology"
While the CIA, DIA, and NSA receive more FOIA requests than ODNI, NGA, and NRO, all face similar challenges.
Read More: United Airlines partners with scandal-ridden, CIA-backed Palantir for data initiatives
Many common issues affecting these programs are outside the IC's control, such as increased volume and complexity of incoming requests, as well as demands from FOIA litigation. Internally, the IC's approach is inefficient.
The programs are not supported by adequate technology, and there is a lack of structured processes for coordination of requests across agencies, according to the report.
The investigation into the Intelligence Community's capabilities of handling FOIA requests came about only after determining that ODNI Information Management Division raised IC FOIA program concerns to the Executive Committee, its senior governance forum.
Intelligence Community FOIA Requests in Numbers
Between the Fiscal Years of 2016 and 2017, a total of 11,804 FOIA requests were submitted to the IC.
Total FOIA costs during this time for these IC elements was over $51 million.
In FY17, these IC elements employed 164 FOIA professionals to process FOIA cases.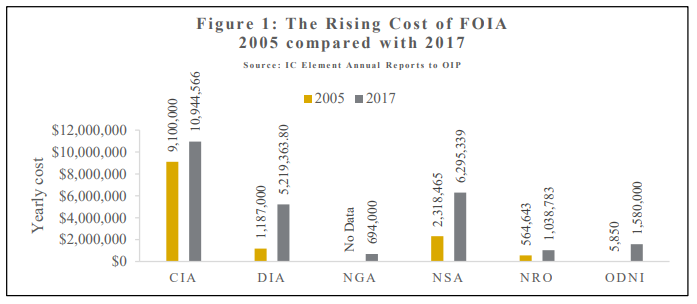 FOIA requires that agencies reply to requesters within 20 working days of receipt of a perfected request.
All of the IC programs are not consistently meeting the 20-day response time requirement.
In FY17, each IC FOIA program closed less than 60% of all initial cases within 20 working days.
Only NSA and ODNI closed more than 50% of all initial cases, with NSA reporting 55% closure and ODNI reporting 59% closure.

An Industrial Age Process Applied to Digital Age Challenge
The Intelligence Community characterizes the execution of FOIA responsibilities as an industrial age process applied to a digital age challenge.
"Without a strategic approach, the IC will continue to struggle to comply with statutory deadlines"
The most profound outcome of this mismatch is inefficiency that affects ability to meet statutory deadlines. Challenges include duplication of effort as requests move between offices for review; multiple transformations of documents from soft-to-hard copy and back to soft; or re-entering redactions of information made on one system into records on another.
These inefficiencies extend overall processing time and increase opportunities for human error and inconsistencies. Cumbersome data transfer and collaboration methods between IC elements further delay critical consultations and referrals.
Without a strategic approach, the IC will continue to struggle to comply with statutory deadlines and the resulting litigation, according to the report.
How FOIA Requests are Currently Processed
Requesters submit FOIA requests to agencies via email, mail, website, or electronic portals. When an agency receives a request, FOIA professionals generally log it into the agency's tracking system, assign a tracking number, and review the request for complexity. The agency sends acknowledgment of receipt to the requester.
FOIA professionals then route the request to the appropriate record owner or subject matter expert (SME) to conduct a search for responsive records or conduct a search themselves. Next, FOIA professionals review the responsive records and determine whether the agency should withhold all or part of a record based on the Act's exemptions.
The Act provides nine categories of information that are exempt from disclosure, such as information properly classified by Executive Order or personnel and medical files. FOIA professionals may consult with or refer records to other agencies when the records are the responsibility or contain the equities of another agency.
After processing the records, applying appropriate FOIA exemptions, and redacting information accordingly, the agency releases the documents to the requester, or notifies the requester of the agency's inability to locate the requested records, or the agency's decision to withhold the requested records.
The requester may then challenge an agency's final decision on a request through an administrative appeal or lawsuit. A requester has the right to file an administrative appeal and agencies have twenty working days to respond to an administrative appeal.