Tech, business, and startup conferences take place every month all around the world; however, what is lacking with most are real changes being implemented following the events.
"Too many conferences gather people to meet, network and leave."
If we were to draw a line graph of the buzz surrounding a conference, it would grow rapidly a few days before the event, peak on the first day, and then begin to rapidly drop-off, even if the conference were to span multiple days.
Many conference-goers simply show up to listen to speakers, perhaps pitch their business to investors, and to network with the hopes of finding new customers or business opportunities, and that's the end of it.
However, Daniel Dippold, Founder of the Kairos EU Summit, has built a platform that serves to enact real solutions following the event, so it doesn't just become a meet-and-greet session with nothing to show after.
"There are two things I planned to do drastically different with this conference," Dippold tells The Sociable, adding, "too many conferences gather people to meet, network and leave. Neither meaningful impact, nor long-lasting friendships are created.
"While capital is distributed and shifted frequently all over the world; only rarely is swarm intelligence captured and distributed. Our goal is to do exactly this. Via small, intimate 'Think-Tank' groups that focus on developing deep connections, we aim to create practical, sustainable solutions."
These think-tank sessions taking place at the Kairos EU Summit in Barcelona from October 19-21 will give a select audience front row seats to innovation in practice and the opportunity to see their ideas and perspectives brought to life by individuals who live and breathe innovation.
"We do not only meet for three days in Barcelona, but aim to leave a footprint for years to come…"
Sessions will include the world's most renowned experts who will brainstorm solutions that will later be executed by Kairos' partner initiatives.
All-in-all over 200 entrepreneurs and over 75 influential industry leaders will be present at the Kairos EU Summit, who will then apply the solutions brainstormed during the think-tanks towards real-world applications.
"Subsequently, we want to pass these solutions on to academic institutions that help with execution. Participants of the summit may be looped in later in the process to function as mentors and catalysts to help those projects flourish," says Dippold.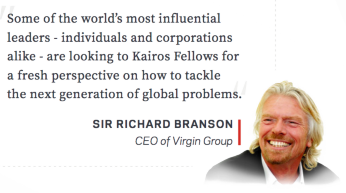 The idea behind the event, and what Kairos represents, is to implent real change. The Kairos philosophy is "focusing the next generation on problems worth solving."
In its nine years of existence, Kairos has been praised by politicians and business people alike, incluing former US President Bill Clinton and English business magnate Sir Richard Branson.
For the Kairos EU Summit, Dippold says, "We do not only meet for three days in Barcelona, but aim to leave a footprint for years to come with comparably little additional effort – a model we'd love to see adopted by other conferences to 'push society forward.'"
As the old adage goes, "All work and no play makes Jack dull boy," the Kairos EU Summit is dedicating its last day to more relationship-building and mindfulness exercises.
"Rather than another day of a formal conference, our closing day focuses on doing networking differently and more intensely, inviting people to a breathing session, a scavenger hunt and a speech competition to create lasting relationships and friendships beyond professionalism," says Dippold.
"We aim to create practical, sustainable solutions."
The event in Barcelona is committed to solving Europe's biggest challenges in:
Immigration
Healthcare
Education
Climate Change
These challenges will be looked at from different angles, such as AI, Blockchain, and Philosophy and Ethics.
Speakers at this year's Kairos EU Summit will include renowned journalists and some of the world's brightest entrepreneurs.
There will also be interactive fireside chats with the most influential business executives, founders and politicians. Engaging discussions between pre-eminent thought leaders in the healthcare and education space, paired with intentional opportunities for audience engagement.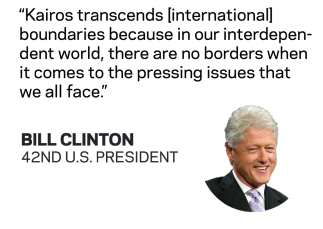 Kairos is a community and fund that focuses the next generation on problems worth solving. Having collected over $25 million for its venture fund and supporters such as Tim Draper, Bill Clinton and Sir Richard Branson for its community, Kairos is serious about tackling global issues.
Founders in Kairos' network  have collectively reached more than $3 billion in market capitalization, as well as $650 million in capital raised. Successful examples are Periscope, Freenome and Nanoly, which are transforming their industries and operating at the very edge of innovation in their spaces.
The Kairos EU Summit is co-organized by the Gaudi World Congress, which is named after the creator of Barcelona's iconic Sagrada Familia, Antoni Gaudi.
On October 19, the 3rd Gaudi World Congress in Barcelona will be joining the past and the present in order to be ready to create a better future.