In promoting peace each year the Rajeev Circle Fellowship immerses entrepreneurs from India and Pakistan in the heart of Silicon Valley.
The Rajeev Circle Fellowship (RC) is a growing community of tech savvy change makers who share a vision of peace, prosperity, human rights and freedom in the Indian Sub Continent.
Designed as a social movement from the ground up by its founder Asha Jadeja, the RC Fellowship is a family-driven activity not tethered in any organization, university, or institution.
Jadeja is a venture capitalist and angel investor who has invested in over 100 tech startups, mostly in the San Francisco Bay area.
Her fellowship is a one-of-a-kind phenomenon that runs by itself and a group of senior volunteers in the Bay Area. RC Fellows become a tight-knit community of exponential thinkers and doers that transcend the usual definitions.
Fellows have the opportunity of meeting influential entrepreneurs and mentors, attending conferences and bootcamps, and even pitching to potential investors.
I met Dr. Musstanser Tinauli, Founder and CEO of Fori Mazdoori, at the Momentum Tech Conference in Karachi, Pakistan in February, where Jadeja was also presenting.
Read More: Over 15K attendees slated for Pakistan's leading startup conference: Momentum
Dr. Tinauli was recently accepted into the Rajeev Circle Fellowship, and I reached out to him to get a better understanding of everything the fellowship entails.
What does being chosen for the fellowship mean to you? What are the benefits?
On a personal level it means a lot to me. It is in some ways recognition of a journey that I started more than 15 years ago. My journey across the US, Europe, and Asia transformed my intent to do my bit for the betterment of community at large and create a positive impact. I am thrilled to have been selected!
Thanks to Asha's fellowship the fellows are already seeing unprecedented warmth in the heart of the city of entrepreneurs.
The benefits are tremendous – it is really like finding a home in Silicon Valley that is surrounded by a tightly-knit community of trusted entrepreneurs, advisors, mentors, and investors where everyone is equally motivated to help others succeed.
Thanks to Asha's fellowship the fellows are already seeing unprecedented warmth in the heart of the city of entrepreneurs.
How did you get to be involved with Asha Jadeja and the Rajeev Circle Fellowship?
Asha Jadeja's wonderful reputation of being a humble, kind and active angel investors in Pakistan is now an established fact. I learned about her in late 2017. Thereon, I was lucky enough to have a few conversations with her on social media.
Later, it was really during the Momentum Tech Conference in Karachi that I had the pleasure of meeting her in person. During our conversations I shared our vision for Fori Mazdoori that she warmly heard. She also appreciated my keynote on Design and Innovation and the panel on IOT.
https://www.youtube.com/watch?v=rFDxtcfDOHo
She has since then been a constant source of encouragement and my go-to advisor. I believe our interactions, my work, and resolve to contribute towards leading a positive change in the region lead to being offered a position in Rajeev Circle Fellowship.
It starts with the selected fellows spending about 2-3 weeks in Silicon Valley to initiate the process of becoming part of a community of tightly-knit circle of friends and family. I believe I am one of the few lucky ones who have been handpicked in a very tight selection by family and friends of RCF lead by Asha herself.
What was the genesis and inspiration of Fori Mazdoori?
Resolving poverty is truly the genesis of Fori Mazdoori. My team and I believe that economic empowerment of masses will lead us towards a sustainable and prosperous future.
The inspiration is to solve two pains with one stroke:
The pain of an employer searching for skilled reliable workers near them.
The agony of a worker (currently offline) waiting for a job while sitting in harsh-weather conditions in today's hyper connected era.
Our answer to this puzzle is digital inclusion! We realized if we can bring workers to Internet in a non-tech savvy way, we would be one step closer to our objective.
The key here was to find a mechanism where worker would neither need to carry a smart-phone nor require access/know-how of the Internet.
Currently, we are on-boarding about 60 new workers daily and we have set our eyes on on-boarding a million workers within the year 2018!
Our solution? We teamed up with multiple partners including Telenor, JazzCash, and TCS that had a major retail presence across Pakistan. Once registered, our workers start getting the incentives of digital media such as online presence, start-ratings, employer feedbacks, job history and a network of friends.
Currently, we are on-boarding about 60 new workers daily and we have set our eyes on on-boarding a million workers within the year 2018! Also, fori.co is something that can be scaled up all across the world keeping in view the future of jobs is not 9-5 rather making ones-self available as and when desired.
I remember you saying you spent a long time away from home. How long did you work abroad before returning to Pakistan?
It feels like I spent a few lives away from Pakistan. During my time away from Pakistan, I mostly worked under the umbrella of creating sustainable, smarter, and safer cities/communities.
I started my international journey by traveling to Malaysia for the first time back in 2003 where I did Master by Research in digital text watermarking. In Malaysia, I also taught and lead research on virtual reality, low-cost & realistic 2D and 3D integrations, and HDRI (high dynamic range images).
I decided that it was time to do something that can potentially impact masses in the developing parts of the world.
In 2006, I relocated to Australia where I worked on Situated Design Computing. My love for design in about a year's took me to Milan (officially my second-home) where I completed my PhD in Design from Politecnico di Milano.
During my stay in Italy, I also worked with CENTRO Metid on creating innovative e-Learning solutions, educational games while applying core concepts of interaction design and design thinking. Furthermore, during my stay in Milan I was awarded with two prestigious fellowships including IBM PhD Fellowship and Roberto Rocca PhD Fellowship to continue my research at Massachusetts Institute of Technology (MIT) with SENSEable City Lab. I continued my adventures in China and even Saudi Arabia.
However, in 2012 I started working in Oslo with Simula Research Laboratory where I decided that it was time to do something that can potentially impact masses in the developing parts of the world. All of this lead to the beginning of Fori Mazdoori in 2014.
What was it that brought you back home?
A strong desire to give back to the community in Pakistan and South-Asia is what brought me back. I absolutely love living in Europe – I mean the people, coffee, food, the languages, and the freedom are pretty incredible.
However, I also had this strong urge to share my knowledge and experiences and to make an effort to build something extraordinary to empower people.
I asked myself, how many people get the chance to travel and experience such wonderful things – so I just had to find a way to share.
Since my return to Pakistan I have enabled more than 3,000 youth through lectures, workshops and mentoring with a perspective of a traveler. As Rob Siltanen puts it, "The people who are crazy enough to think they can change the world are the ones who do."
Now that you've been accepted into the Rajeev Circle Fellowship, how much time will you spend in the US?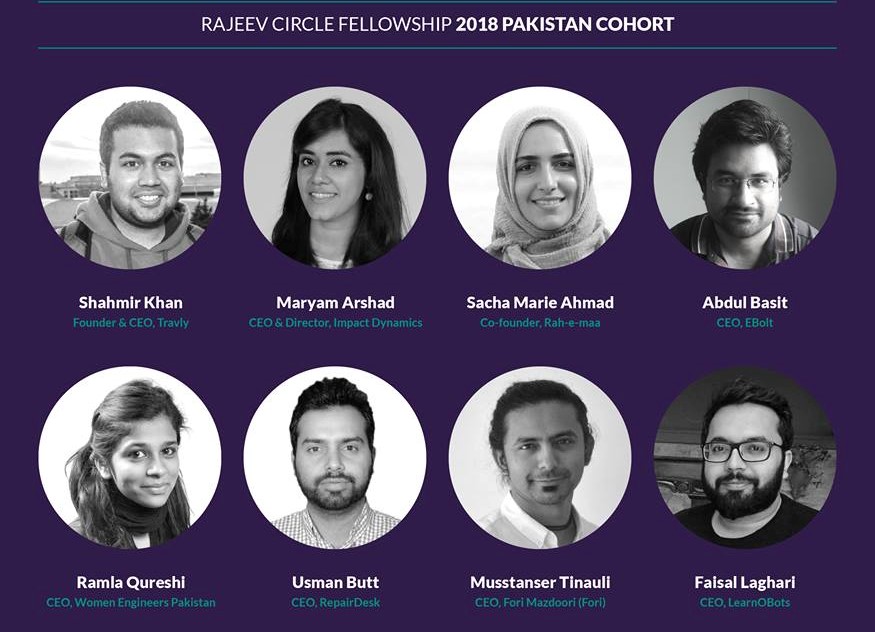 This time around I will be spending about 2-3 weeks in Silicon Valley. However, as Asha puts it, "It's a 40 year commitment from the fellows."
We are building a community of change makers that will potentially shape the future of the subcontinent.
Can you talk a little bit about your experience at the Momentum Tech Conference?
I have, in person and with our startup, been a part of Momentum for two years. It is a great conference and keeps improving each year.
Read More: Pakistan ascending: the tech and startup ecosystem is a united vision
In 2017 coming in top four startups opened Karachi as a market to Fori Mazdoori. This year we were a featured startup and during the conference we certainly forged new partnerships and collaborations with Industry.
We have some very exciting announcements coming up soon!
What is something that nobody else knows or something that is overlooked in the Pakistani entrepreneurial ecosystem?
Regarding the Pakistani entrepreneurial ecosystem: Pakistan is a young nation in all its aspects with 64% of its population being under the age of 30! The entrepreneurial ecosystem is literally in its infancy.
However, an average villager is a born "non-traditional entrepreneur." We just need to nurture the same mindset and find ways of appreciating them.
Read More: The Pakistani entrepreneurial ecosystem, an inside glimpse
In Pakistan there is an unmatched potential and passion in abundance across the country. Most Pakistani's bring out their best under enormous pressure – while growing up the youth has seen only one constant, i.e. change!
I believe this ability to adapt to any sort of circumstance and situation is creating unprecedented innovation across Pakistan and shouldn't be underestimated.
With Fori Mazdoori, we are tapping into a mostly offline community. The likes of the data we are gathering is currently even unavailable to the likes of the Googles and the Facebooks. Also, the impact, based on our surveys is incredible. Only one additional job for a worker per week courtesy of Fori directly correlates to a worker making 50% additional aggregated monthly wage.
Anything else you'd like to get across that is close to your heart?
Having initially raised angel investment and now opening-up for a major raise, I want to share that Pakistan is a country full of passion, youth and opportunities.
For the world to achieve any sustainability whatsoever, it's critical that we learn to work together, for only by working together we can change the world.
There is so much happening here – I know of people who cried when they had to come live in Pakistan from abroad and then they cried again when they had to leave. It is a land of hope, love and innovation. The fear of investing in countries like Pakistan must absolutely go-away. Today is the perfect time to invest in us! I invite you to actively look at what our entrepreneurs are creating.
I would also like to take this opportunity to bring the emphasis on the power of collaboration. I am absolutely sure about this, for the world to achieve any sustainability whatsoever it's critical that we learn to work together, for only by working together we can change the world.
Powered by the RC Fellows Asha Jadesha is creating a grass roots network of budding venture capitalists in the Sub Continent who will extend her and her late husband Prof Rajeev Motwani's vision of bringing a mindset of abundance, risk taking and disruption into their home region.
Momentum, founded by  brothers Amir Jafri and Asif Jafri, is a global startup community designed to educate, inspire and connect Pakistani entrepreneurs who work on innovative and disruptive technologies to create the knowledge economy to drive Pakistan's growth over the coming decade.
The main aim of the Momentum Tech Conference, which took place February 19-20 this year, is to help startups to get all the required resources to create a successful startup.