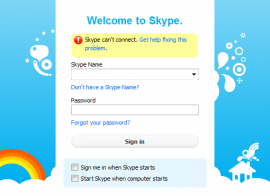 Skype, the world's largest VOIP network, has been brought down due to an apparent software bug. Many of the service's 42 million active members are unable to connect to the network.
Skype first reported the downtime at 5 o'clock GMT (midday EST), four hours ago. According to the company the software bug is preventing Skype applications from routing calls to correct locations through what they call "supernodes."  This is preventing users from successfully logging or, if already logged in, from making calls or sending text messages.
Writing on their blog, which itself has been occasionally down, Skype said,
Skype isn't a network like a conventional phone or IM network – instead, it relies on millions of individual connections between computers and phones to keep things up and running. Some of these computers are what we call "supernodes" – they act a bit like phone directories for Skype. If you want to talk to someone, and your Skype app can't find them immediately (for example, because they're connecting from a different location or from a different device) your computer or phone will first try to find a supernode to figure out how to reach them.

Under normal circumstances, there are a large number of supernodes available. Unfortunately, today, many of them were taken offline by a problem affecting some versions of Skype. As Skype relies on being able to maintain contact with supernodes, it may appear offline for some of you.
An hour ago at 9pm GMT (4pm EST) Skype reported that the network is returning to normal following a fix but many users are still reporting that the they are unable to make or receive calls.
Skype's twitter feed, @Skype, will have the latest information.