No matter what side of the unauthorized immigration and border security debate you're on, technology plays a major role in the day-to-day operations.
Whether it's helping to unite or separate loved ones, apprehending unauthorized people living in the US, or providing aid to those who have made long and treacherous journeys, technology's impact can be felt everywhere along the way.
Immigration as an issue is very broad; however, and tech can't fix everything.
For the purpose of this article, I chose to focus on unauthorized immigration in the US, the technology used by law enforcement, and controversies surrounding both, without delving into issues of refugees or asylum seekers.
According to a recent Gallup poll from July, 2019, a little over a quarter of Americans say immigration is the most important problem facing the US.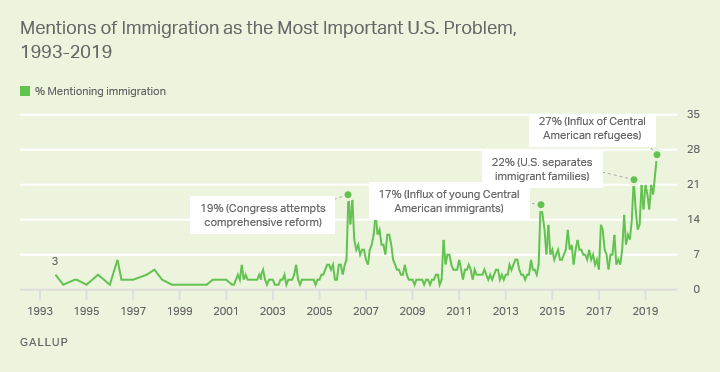 Immigration is also consistently among the top three most important issues for voters, along with healthcare and the economy.
Strain of Unauthorized Immigration on Border Security
The issue of unauthorized immigration has been heavily politicized in the media with polarizing views such as abolishing Immigration and Customs Enforcement (ICE), having open borders, and declaring fences "inhumane" to calls for more border security, deportations, and erecting walls.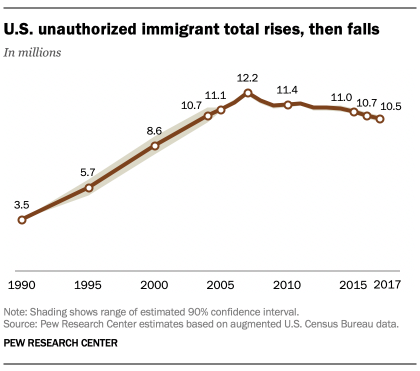 On average, every unauthorized person living in the US is costing taxpayers between $65,000 and $135,000 during their lifetimes, according to the Center for Immigration Studies.
There were an estimated 10.5 million unauthorized immigrants in the US in 2017, representing 3.2% of the total US population that year, according to Pew Research.
That brings the cost of unauthorized immigrants on the taxpayer to between $682.5 billion and $1.4 trillion during their lifetimes if my math is correct.
There are 113 detention facilities across the US and along the southern border providing medical supplies, blankets, food, water, and personal hygiene products to those detained.
Maintaining one adult detention bed costs between $140 and $200 per day and around $320 for a family unit.
In an effort to increase border security, the Department of Homeland Security (DHS) budget report for FY 2019 proposed:
$1.6 billion for 65 miles of new border wall construction in the Rio Grande Valley Sector to deny access to drug trafficking organizations and illegal migration flows in high traffic zones where apprehensions are the highest along the Southwest Border.
$223.0 million for the procurement of high-priority infrastructure, border security technology improvements.
$210.5 million to support the recruitment, hiring, and training of 750 additional Border Patrol Agents.
$382.1 million for the Federal Law Enforcement Training Centers to continue training personnel from over 95 law enforcement agencies government-wide
Logistically, the system has been stretched in terms of money and capacity, although money does pour in when politicians begin waking up, and investments in technology are being allocated to increase border security.
Facial Recognition Technology 'Bias' in Tracking and Deporting Unauthorized Immigrants
There are many who would see immigration agencies like ICE completely abolished.
At the center of the abolish ICE movement, which is already waning in support, are those that see the organization as one "that exists solely to hunt, catalogue and detain the most vulnerable among us" and that companies like Amazon and Palantir are helping ICE with the mass deportations of government "undesirables."
Read More: Amazon, Palantir are aiding mass deportations of govt 'undesirables': report
On the tech side, Amazon has built a powerful facial recognition software with Rekognition, and Palantir, which provides the software for much of the tracking and deportation systems used by ICE, is also hosted on Amazon Web Services (AWS).
MIT Technology Review went so far as to say last year that Amazon was "the invisible backbone of ICE's immigration crackdown."
The problem with Amazon Rekognition is that there is a famous study by the ACLU still going around which found that Rekognition incorrectly matched 28 members of Congress, identifying them as other people who have been arrested for a crime.
Nearly 40% of Rekognition's false matches in the test were of people of color, even though they made up only 20% of Congress.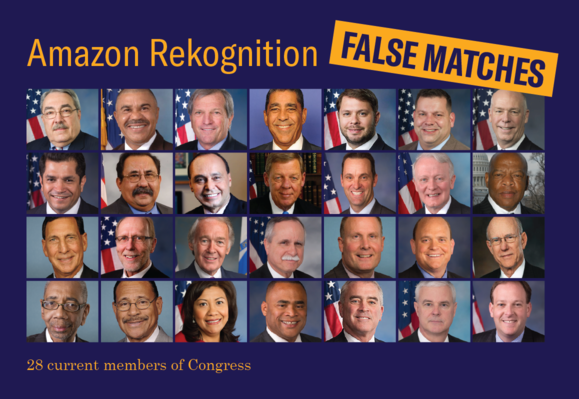 Bias in the algorithms has been a major concern for using facial recognition technology with immigration and law enforcement.
A year ago, the ACLU filed a Freedom of Information Act (FOIA) request demanding that the Department of Homeland Security disclose how it and ICE use Amazon facial recognition software Rekognition for law and immigration enforcement.
Read More: ACLU files FOIA request demanding DHS, ICE reveal how they use Amazon Rekognition
Tech can't solve border security, but it can be effective when used correctly and ethically.
As of 2018, ICE had some 500 contracts with almost 200 tech companies, according to a Recode report, which reiterated the Washington Post's description of ICE as "an organization that's become infamous for putting children in cages."
But the animosity towards ICE, the DHS, and other border agencies goes deeper than that, and some reports have been greatly exaggerated in my opinion.
This administration has established concentration camps on the southern border of the United States for immigrants, where they are being brutalized with dehumanizing conditions and dying.

This is not hyperbole. It is the conclusion of expert analysis ⬇️https://t.co/2dWHxb7UuL

— Alexandria Ocasio-Cortez (@AOC) June 18, 2019
Politically, the whole situation is a mess with both sides pointing their fingers at one another, watching the same screen but seeing entirely different movies.
The reality is that without a law enforcement agency to keep the border secure and to keep the US from being flooded with people that has brought the system to its logistical knees, those wanting to get rid of immigration agencies like ICE don't propose how to fix the system.
Read More: Shareholders tell Amazon to stop selling Rekognition facial recognition tech to govt
Open borders is not a sustainable solution. We've seen how unauthorized immigration strains the system already, so what do we do if people are allowed to cross freely without going through the proper channels?
Technology-Aided Humanitarian Efforts Led by ICE
A solution must be found that uses our hearts as well as our brains. Some propose fixing loopholes in the system; others say tear the system down.
People who break the law in crossing the border illegally do so knowingly (except in the case of children), but even bringing children over the border does not change the legality of the situation either.
Children are far too often the victim at the border, and immigration officials have been providing humanitarian aid to the vulnerable youth, regardless of status.
And for all the negative press it receives (i.e. separating families, running so-called "concentration camps," etc.), ICE continues to do humanitarian work with technology at the forefront.
Read More: Uncovering human trafficking with tech, typologies, trails of money
For example the Operation Predator app enables users to receive alerts about wanted child predators, to share the information with friends via email and social media tools, and to provide information to the Homeland Security Investigations (HSI) wing of ICE by calling or submitting an online tip.
Launched in 2013 the app allows users to view news about arrests and prosecutions of child predators and additional resources about ICE and its global partners in the fight against child exploitation.
Since 2003 ICE HSI has arrested "more than 19,000 individuals for crimes against children, including the production and distribution of online child exploitation material, traveling overseas for sex with minors, and sex trafficking of children."
"More than 3,000 child predators were arrested by HSI special agents and more than 850 victims were identified or rescued" in the fiscal year of 2018 alone.
Adittionally, ICE HSI long ago established a National Victim Identification Program, combining the latest technology with traditional investigative techniques, to rescue child victims of sexual exploitation.
Tech Won't Solve the Unauthorized Immigration Problem
While tech is being used to help apprehend those committing crimes, families are being separated, detention centers are pushed to capacity, and access to supplies for people with special needs is limited.
I don't have the answers, but I do know that while politicians argue over what's humane and what isn't, immigrants are still suffering, border security agencies have been pushed to their limits, and the American taxpayer is footing the bill.
This problem went from being called a "crisis" to a "manufactured crisis," and then back to being a crisis again by those in power, including the media.
One side accuses the other of being immoral and without a heart while the other side accuses them of being socialists who are trying to create a class of victims dependent on the government in an effort to gain voters.
Technology isn't going to sort this one out, but it certainly has a profound impact on the way things are getting done operationally, for better or for worse.