We all want to write good content – the kind of content that moves mountains. Well, if not that, then at least hearts. Yes, we want our content to have an impact and be read by the audience in so many ways.
But often we forget that it should also be helpful for them and should serve a purpose.
This is the reason why a content that has all the goodness of being read when marketed to the target audience is rare these days. Its capability of becoming viral and to eventually become a source of information for users is an even rare species.
It is mostly because not many are taking effective content marketing into account even though there is a dire need to producing quality content.
Content marketing is quite young if you measure the time it has existed but is it really a brand new "Concept" in all? Nope. Websites have always had a copy, products always had a description and there has always been a menu at the restaurants.
Content marketing in all, however, turned things around a bit. For all the three examples mentioned, there's a petty addition of creating relevance, effectiveness and a powerfully compelling content that revolves more around the customer and his need than the product itself.
That could be explained in a one-liner by Seth Godin:
"Don't find customers for your products, find products for your customers."
Having said that, only 18% of B2B manufacturing marketers were reported to be effective at content marketing. Sadly, a very small percentage. Why is that?
Producing great content is surely an uncommon skill. What is really common, however, is people making mistakes and these people aren't necessarily beginners. That's why.
Have you been making those mistakes? Let's identify each of those mistakes and how can you fix them.
1. Vague Course of Action
Taking content marketing individually and not compiling it with the rest of your marketing strategy is a huge mistake. A content should always act as a supplement to your website, products and services. However, not many realize this and thus do not have a set course of action that will go further from there.
Fix: Having a documented plan can help in letting your customers visualize your brand in a big picture, as you want them to. Start with a clear goal and be specific about the content strategy. Next, make an editorial calendar to monetize the content that you create. If you are regularly publishing content, it also means that you care for your community and your readers know what to expect of them. Regular posting can also ensure that you stay on top of Google too, fresh content can help you achieve just that.
2. Overdue Study on Target Market
Be it content creation or promotion, analytics are a great way to help you make such important decisions. Not learning from them and relying on your gut is yet another terrible mistake that we do. In addition to that, often we forget that keyword research is an important matter when it comes to your customer-tailored content.
Fix: A study on target market is an ongoing process in order to efficiently make use of user patterns and how they behave to a particular action. To better reach your target audience, make use of Keyword Planner. Simply log on to Google AdWords and go to the dropdown for tools > keyword planner.
Once there, type in the information asked for to generate keywords relevant to the product or service that you are offering.
Upon pressing the blue button "Get Ideas", you will get a bundle of keyword ideas that you can get started with.
3. Weak Calls-to-action
Think about the times that you have signed up for something. Did it get you tempted? Excited? Interested? If it did, they have been really good calls-to-action.
CTAs are not made up of a mere "Yes" and "No". They are a lot more than that. Little do we understand the importance and hence make them look boring, dull and quite frankly, we sometimes even forget to pay heed on how important they are in conversions. They are just inclusive of a button, right? The very button that converts.
Fix: Such is the power of a great copy on your CTA that it can help you convert. The design should be simple, yes, but a click-worthy copy and using the right color can change everything. Take a look at how Netflix pulls it off perfectly.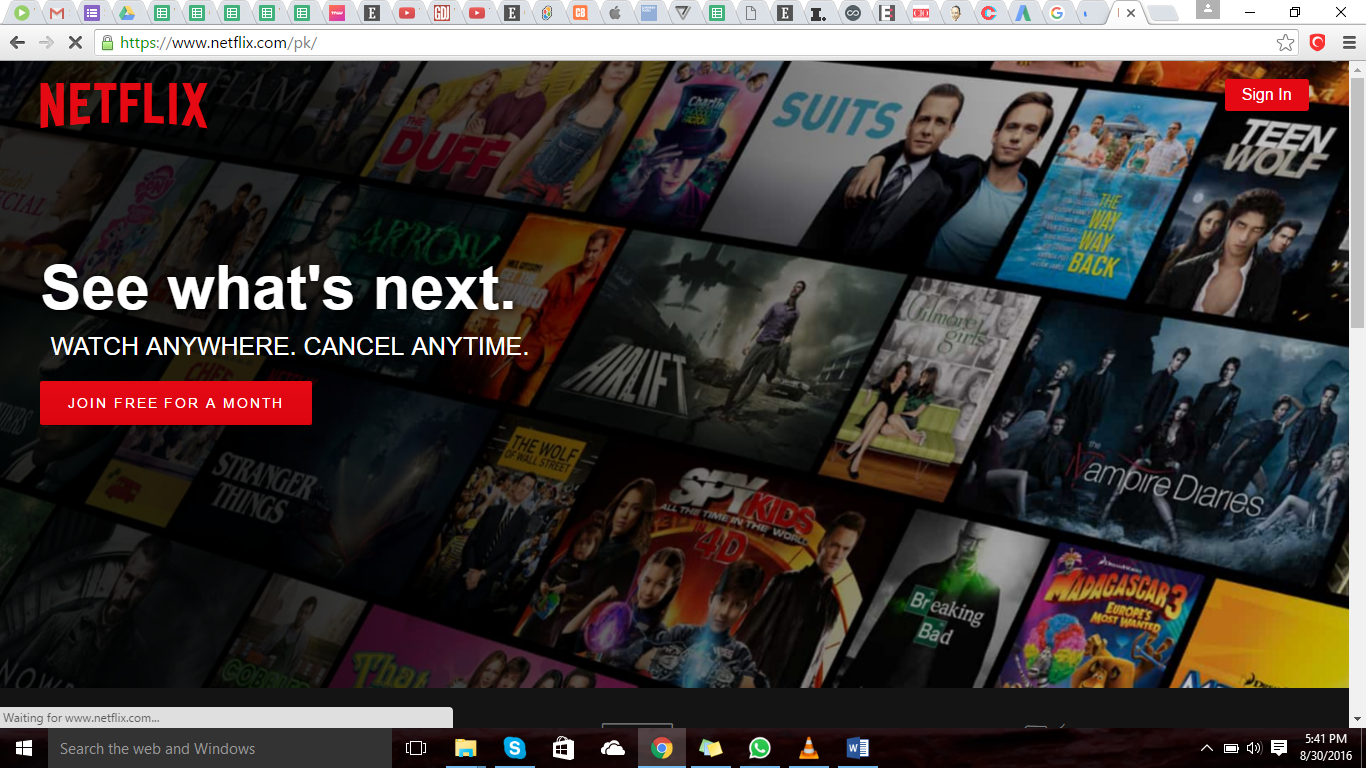 So with that "Join Free for a Month", there is no more fear of canceling a subscription if you don't like it. And look at that red color, how it matches the Netflix logo and fulfills the purpose of a primary CTA is epic. End result? Boosted signups.
4. Missing multi-platform strategy
How can we ever forget social media platforms when digitally marketing ourselves? So here's what most of us do in a nutshell: create content for the purpose of website only > publish content on website > share a link of the same on various channels > Catch the readers and bring them to your website to get their emails.
That is one traditional approach that, unfortunately, doesn't work anymore.
Why?
Because people today would like to stick to the particular channel they are currently on and consume content from there only.
Fix: One good fix for this is to start with the "Omni-Platform Content Strategy", according to Contently. Creating and publishing content for platforms other than your website is how you can get a grip on the matter.
If you continue to simply think of driving traffic to your website, you will lose engagement opportunities from other channels. Change your mindset to meet your goals.
5. No creative headlines
A headline is the first thing that gets noticed as part of the content. Be it a website copy or a blog, headline matters. But sometimes we are so busy producing great content that we neglect the headline.
Give your audience an interesting title that fulfills very little part of the promise throughout the content and that's a whopper right there.
Fix: Craft a headline that syncs well with the content in the body.
6. Forgetting to proofread content
Okay, so you have written an amazing piece of content, took you good three days to complete it and it's good to go. But is it really your final piece? Or is it just a draft that you are submitting? Yep, we often tire ourselves in creating content that we forget to proof-read it.
Fix: This one has the easiest of all the fixes – just proof-read your content. Get your supervisor to proof-read it. Go to an expert and seek advice as to how to make your content better and only then should you go about submitting it.
That means that you should not only be a good at writing persuasive content. Editing skills are a necessity too. And an additional pair of eyes can help you decide even better.
7. Content maintenance lacking
Creating content itself is a tedious task for it consumes time, energy and is expensive to begin with. That means we should all put our focus to doing that and forget about what already exists, right?
Thinking that could be damaging to your company's reputation.
Fix: Older content is not to be ignored if it still is an active part of your website. Revamp it, re-optimize it to have it rank higher on Google.
Don't forget to add supplements, like videos, pictures, etc., whenever you can to add more life and value to it.
Way Forward
Anything that a visitor reads about you eventually becomes your identity. They start perceiving your brand as you, yourself have described to them. This means that content can be brilliantly impactful but when not handled correctly, it could be damaging as well.
So you know how to devise and what to include in your content marketing practices from now onward.
Of course, producing quality content requires time, effort and creativity. Holistically infusing that with a solid marketing strategy can do wonders. All of this does not come quickly. Perhaps beginning today can help you achieve a lot. Also, set a clear goal, be experimental and listen to your customers – it'll help you to strive and thrive.
And to top it all: Practice, practice, practice…
---
Mariya Sabeen Irshad is a creative writer by passion and a content marketer by profession – a tech-savvy who is currently associated with Dubai Monsters, a creative design studio. With an MBA in Marketing, she holds relevant industry experience and writes about digital marketing, mobile applications, web designing tips, career counseling, game development and trending technology news.
---