The US Ambassador to Uganda issues a statement condemning the police crackdown on an LGBT event where several were reported wounded.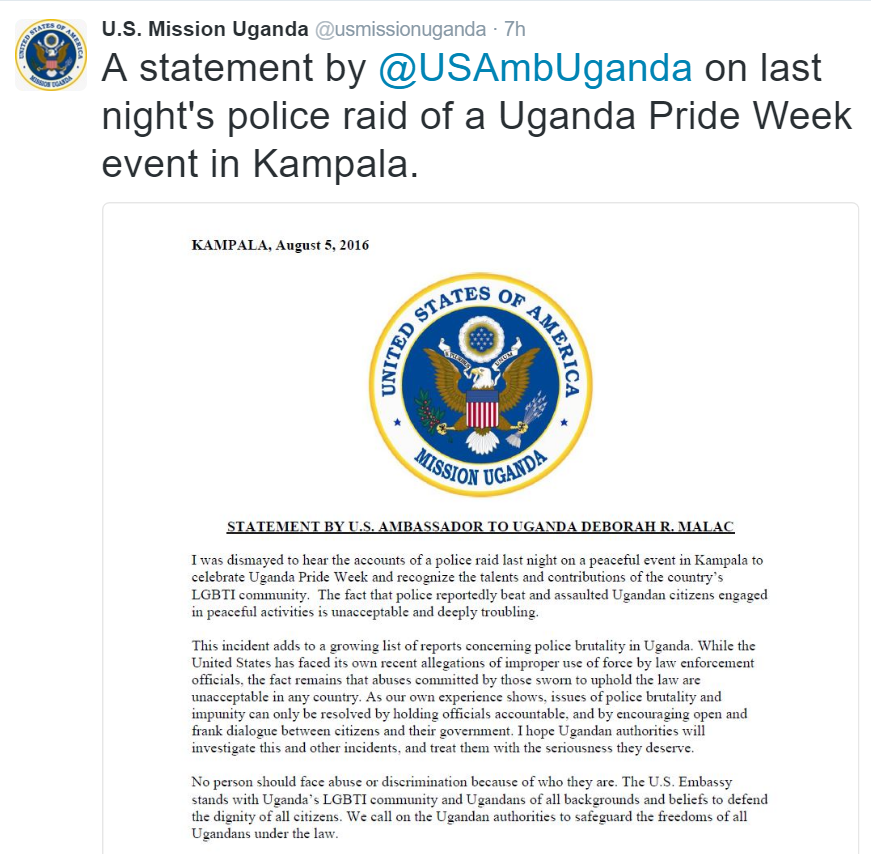 Ambassador Deborah R. Malac issued a statement today condemning police brutality against the LGBT community.
"The fact that police reportedly beat and assaulted Ugandan citizens engaged in peaceful activities is unacceptable and deeply troubling," Ambassador Malac remarked.
She went on to say that the US Embassy "stands with Uganda's LGBTI community and Ugandans of all backgrounds and beliefs to defend the dignity of all citizens."
The police raid took place at the Venom nightclub in Kampala last night during a pageant where several people were reported injured.
One nightclub-goer described the violence perpetuated by the police.
"They were beating people … mostly the trans women," said Adebayo Katiiti Phiona in an interview with Buzzfeed, adding, "a police person even stepped on a trans woman."
According to another report, "One person being rounded up jumped off a building reportedly to escape police brutality and is fighting for their life at the Mulago hospital."
Weighing in on the homophobic police brutality, gay activist and pastor Reverend Jide Macauley said that he had never seen this type of humiliation.
"It was a peaceful beauty pageant — well organised until the police stormed the venue. This is a shame. The event took place in a licensed bar and everyone was well behaved, having the fun of our lives.  I have never seen this level of humiliation and infringement of people's rights."
LGBT laws in Uganda
Homosexuality has been illegal for men in Uganda since the 19th century, but hadn't been strongly enforced until the early 2000s. That's when American evangelists, after being chased out of the US, began preaching homophobic sermons in the East African country.
According to Mother Jones, "As they lose ground at home, where public opinion and law are rapidly shifting in favor of gay equality, religious conservatives have increasingly turned their attention to Africa."
Uganda's deeply disturbing Anti-Homosexuality Act was signed into law in 2009, but was overturned in 2014 as people interpreted it as being perfectly legal to beat and sometimes kill anyone whose sexual preference favored the same sex. The Act was dubbed the "Kill the Gays" bill by Western media.
The Act, according to Vice, "targeted the most marginalized and vulnerable members of the country's population with extreme penalties, including life imprisonment for gay sex, oral sex, and living in a same-sex marriage."
Uganda Public Opinion on LGBT community
Next to Nigeria and Jordan, Uganda is the world's most homophobic country with 96 percent of the population believing that homosexuality should be rejected by society, according to the PEW Research Center.
In 2014, Uganda's president openly declared that homosexuals were "disgusting."
"They're disgusting. What sort of people are they?" the president said. "I never knew what they were doing. I've been told recently that what they do is terrible. Disgusting. But I was ready to ignore that if there was proof that that's how he is born, abnormal. But now the proof is not there."
With a homophobic government and American evangelicals spreading more hatred, it doesn't look like public opinion is going to change in the near future.
However, one of the most outspoken anti-gay voices in Uganda came under fire this year and was charged with Crimes Against Humanity in Massachusetts.
Pastor Scott Lively was one of the main advocates preaching discrimination against the LGBT in Uganda.
According to the Advocate, Lively "delivered hateful speeches against LGBT people, calling them 'brutal,' 'savage,' and harboring a predilection toward pedophilia, he worked with lawmakers to actively take away their rights and put them in harm's way."