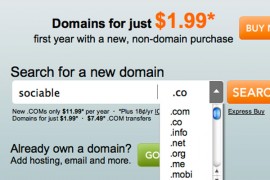 .CO domains are about to go mainstream as domain registry site Go Daddy makes .CO domains the default option for new registrations. This change is fairly significant as Go Daddy accounts for nearly fifty percent of all internet domain registrations.
Instead of featuring .COM as the default option in their main homepage search box, Go Daddy have replaced this with .CO. It's interesting to note that .CO domains can cost almost three times more than .COM addresses, so there may be a financial incentive in this change also.
.CO domains have been growing rapidly in numbers since their public launch in July of this year. The .CO Internet SAS have recently announced that 500,000 .CO domains have been registered so far. While this figure is small in comparison to an estimated 90 million .COM addresses, .CO domains have only been on sale for less than four months.
We welcome this change from Go Daddy, not only because our own domain is .CO, but also as a means to help improve the quality of newly registered domain. Quality .COM domains have been virtually non-existent for some time, and now .CO provides and accepted and viable alternative.
Update: Go Daddy has returned .COM as the default top-level domain for new registrations. It's now evident that the switch to .CO was a test designed to gauge user's response to .CO. It would be interesting to know what Go Daddy have learned from this experiment.