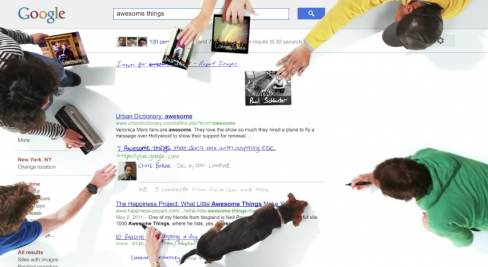 Google has today announced the biggest social update to Google Search in over two years, integrating public and privately shared Google+ posts and images into search results.
Google initially began their foray into search personalisation based on users' social circles with the introduction of Social Search in October 2009. Today's announcement develops this social integration further by directly displaying Google+ posts and images, including a user's own posts and friends posts that are either shared publicly or specifically with that user, alongside normal search results.
Google's premise with this latest update is that when it comes to certain types of searches, like vacation destinations for example, friends' experiences are often more "meaningful" than regular impersonal results.
Google has integrated Google+ into a few other areas of Google Search too. Users searching friends' names are given a personalised Google+ profile prediction in search auto-complete, with relevant profile information displayed below in Google's instant results. Along with Google+ profiles belonging to users' social circles appearing in auto-complete, prominent Google+ users, like journalists and musicians, may also appear.
When searching for specific topics, prominent people and Pages of organisations relevant to the certain topic may be displayed on the right-hand side of the results page, complete with the now common Add to circles button.
As this new social drive adds the ability to display private Google+ posts inside personalised search results, SSL encryption will now be a mandatory feature of Google Search when signed in to a Google account.
For those that do not wish to be shown personalised search results, Google has added a prominent toggle button on the upper right-hand side to switch between both search views. The unpersonalised view offers no results from friends, no private information and no search personalisation based on previous search history.
The social updates will arrive on Google.com over the coming days to English speaking users.