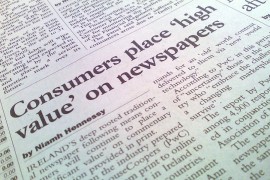 Traffic to The Irish Times website has seen an increase of 82% for the twelve months prior to November 2010, when compared to the previous year. This figures highlights the growing trend of users wanting to source news information online.
According to officially audited ABCe figures, the number of unique visitors to The Irish Times website was just shy of 3.9 million in November 2010. In November 2009 this figure was 2.1 million, marking a notable 1.7 million increase in traffic.
The Irish Times website compares well to other Irish media websites. The Irish Independent's website receives approximately 1.9 million unique visitors each month, while RTÉ's website receives just over 4 million unique visitors each month.
Liam Kavanagh, managing director of The Irish Times, stated:
"Since we launched irishtimes.com as a free service in 2008, traffic to the site has almost tripled, reflecting the strength of demand among online consumers for quality Irish journalism."
Kavanagh believes that strong growth in mobile traffic in particular accounts for their successful previous year online,
"In the last 12 months, it's been particularly gratifying to see very strong growth in mobile traffic, driven by our apps for iPhone and Android, and in the number of paying subscribers to The Irish Times  epaper, which is now also available for iPad and iPhone."
No figures have been released as regards circulation numbers of The Irish Times printed edition, so it's hard to determine whether the website is merely "stealing" traffic from the printed form, or whether this growth is truly organic. Still, it's great to hear an Irish media outlet growing so well online, and embracing all its potential benefits.
Image courtesy of Irish Typepad on Flickr.