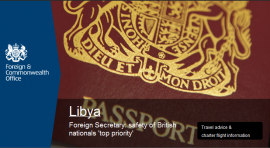 The British Foreign Office has created a Skype account to handle enquiries from UK citizens looking to leave Libya.
The account, libyacharterflight, was created as the Foreign and Commonwealth Office chartered a 200 seat flight to evacuate Britons from Tripoli.  An Irish government Air Corps plane took off from Libya with 21 persons on board in the past hour while two other planes from the UK and two ships are in the process of evacuating more UK citizens from the country.
President Obama is due to make a statement about the situation at 10pm GMT today.
The Skype account is active at the moment and is operating with a delay of about 5 minutes.  Since going live at around 8pm GMT the profile has received over 60 followers.  A message on the profile says "Sorry if there is a delay in responding to your message. I'll respond as soon as I can."
Libya charter flight – If you are having trouble contacting us please keep redialling or try contacting us on Skype where you will find us listed as 'libyacharterflight'
Message posted on The British Foreign Office's Facebook page
The Foreign Office is using both Skype's instant messaging system and VOIP services to contact UK citizens.  People can contact the account by pressing the "Add Contact" button on the left hand side of the Skype programme and then by adding libyacharterflight to the "Skype Name" text box.
Britons stranded in Libya, or those with friends or family, in the country can login onto the Foreign and Commonwealth Office website for full evacuation information.
As well as the Skype account the Foreign Office can be contacted on their 24 hour hotline on 020 7008 0000 from the UK or 021 340 3644/45 from Libya. More information is available on http://ukinlibya.fco.gov.uk/en