Nestled in a 10-square-kilometer area in the southwest zone of São Paulo, the favela (slum) Paraisópolis is home to more than 100,000 Brazilians.
Exemplifying the stark contrasts that permeate Brazil's largest metropolis, the community is located within the Morumbi neighborhood, one of the wealthiest and most developed in the city. But while Morumbi residents have access to paved streets, lighting, sanitation and other government services, those living in Paraisópolis have lacked the most basic of infrastructure and its labyrinth of unplanned streets and corridors makes navigating the favela extremely difficult for anyone who doesn't live there.

As a consequence, Paraisópolis residents have been largely left out of Brazil's e-commerce boom over the past six years. Data from the Brazilian Association of Electronic Commerce (ABComm) reveal that the sector's revenue between 2017 and 2022 grew 181% in the country, rising from R$60 billion (USD $11 billion) in 2017 to R$169 billion (USD $32 billion), in 2022.
According to the association, the segments that presented the best results were: food and beverages, driven by the World Cup games; perfumery, pet shops and electronics.
For 2023, the sector expects to continue growing with projections that indicate revenues of R$ 185.7 billion (USD $35 billion).
One young Paraisópolis inhabitant, Giva Pereira, recognized the problem, and did something about it.
"I grew up seeing problems, helping to solve problems, encouraging other people to solve problems too. Here is my world, a world of opportunities where I help people, where people have helped me a lot too," said Pereira, who moved to Paraisópolis 10 years ago from the countryside with his mother.
At just 22 years old, Pereira is the CEO of the logistics intelligence startup Favela Brasil Xpress, which today delivers online purchases to eight favelas in Brazil, including Paraisópolis.
Brazil Reports visited the company's headquarters in the favela in March to learn more about their operations and how companies are innovating to solve logistics problems in the country.
100 years of growth of a concrete jungle
Over a hundred years ago, the area that is now Paraisópolis was desolate farmland. In 1921, it was divided into 2,200 plots of land intended to be developed into an upscale neighborhood.
However, the extremely steep terrain, cut by several streams, proved difficult to develop and made the real estate project unfeasible.
In the 1950s, during São Paulo's industrialization, poor workers — mostly from Brazil's economically deprived northeast — in search of opportunity in the city, began informally settling on the land that is now Paraisópolis.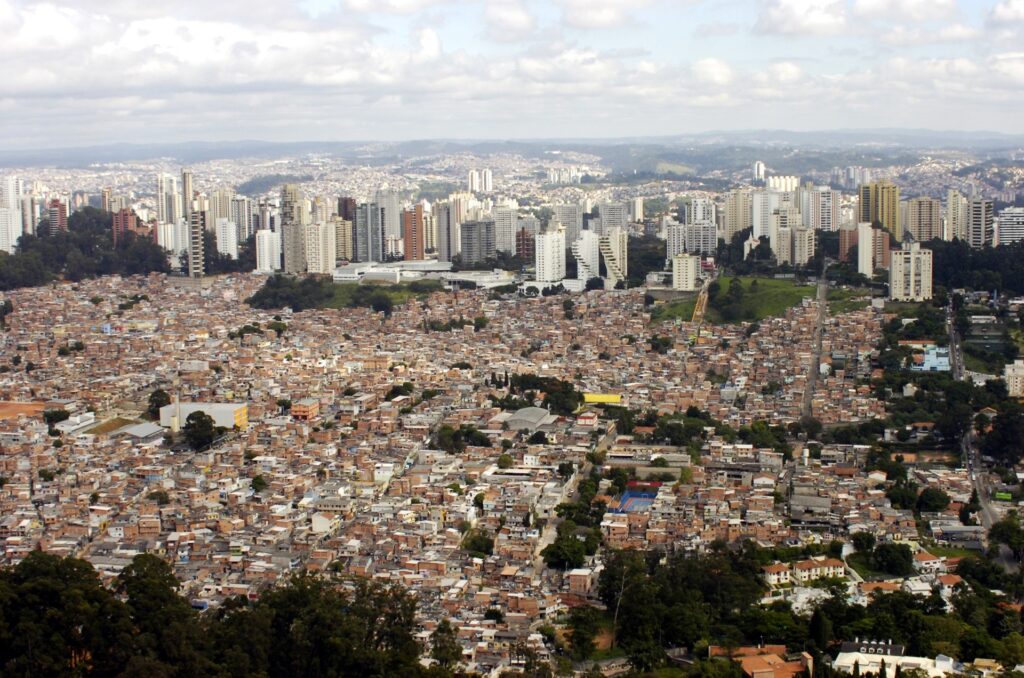 Without planning or support from the government, the community of Paraisópolis grew into a tangled maze of wooden shacks, bricks and concrete. Houses, of all shapes and sizes, were scattered on the sides of narrow streets, in alleys, and along narrow walkways and staircases.
While the haphazard construction of the years makes Paraisópolis a fascinating case for modern architecture, it also makes it a living hell for delivery drivers and shippers.
Most homes don't have an official address, many do not face streets that are navigable by car or motorcycle, and streets and corridors are often only referred to by local nicknames — essentially gibberish to delivery drivers from outside the favela.
Favela Brasil Xpress' mission to deliver e-commerce purchases in Paraisópolis
During our visit to the operations base of Favela Brasil Xpress in Paraisópolis, Pereira told us that the idea for creating the startup came from his own frustrated attempts to make online purchases.
"I bought books and they never arrived here in the Paraisópolis community," he said. "So I went to find out what were the problems for which the community resident did not receive the products at the door of their house."
Pereira explained that only houses on some main streets of Paraisópolis have an official name, address and postal code. According to him, residents often paint random numbers on the side of their houses to identify it as theirs, making it impossible for traditional delivery services to locate these homes precisely.
"If you observe this street here in the community, number 1 is next to number 1,000, which is next to number 50. So people end up putting there what is convenient for them," he said.
After understanding the problem, Pereira set out to solve it. He built an ambitious plan that would make it possible to deliver online purchases to all residents of the favela. To do so, he recruited a team of local couriers to help him map out the regions of the community, dividing it into dozens of sectors.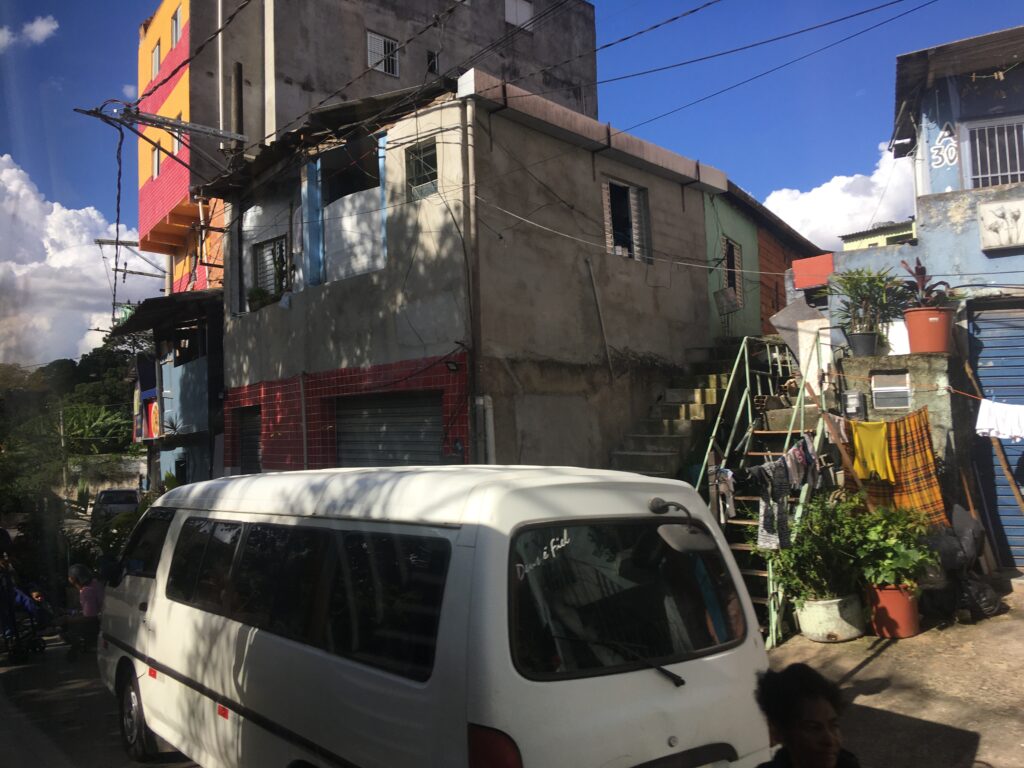 He contacted Brazil's largest e-commerce retailers in an attempt to form partnerships. His startup took off.
Two years ago, Pereira himself started off making deliveries on his bicycle, delivering what he said was about 150 packages per day. Today, the company deliveries more than 4,000 packages in Paraisópolis and has partnered with some of the largest e-retailers in the country including Americanas, Via Varejo, Magalu, Riachuelo, Mercado Livre, and according to Pereira, they are in advanced negotiations with international retail giant Amazon.
"What led these companies to trust that we would actually be able to deliver is that we would use the community residents who know the favela, know the addresses, know the alleys," said Pereira. "Today, I have around 300 people who make deliveries by motorcycle, bike, tuk-tuk, electric vehicle, and even on foot when the order is nearby."
The company pays R$4 (USD $0.75) for each delivery made by car, R$3.50 (USD $0.66) for motorcycle and R$3 (USD $0.56) when trips are made by bicycle. On average, couriers earn between R$1,500 (USD $280) and R$4,000 (USD $750) per month.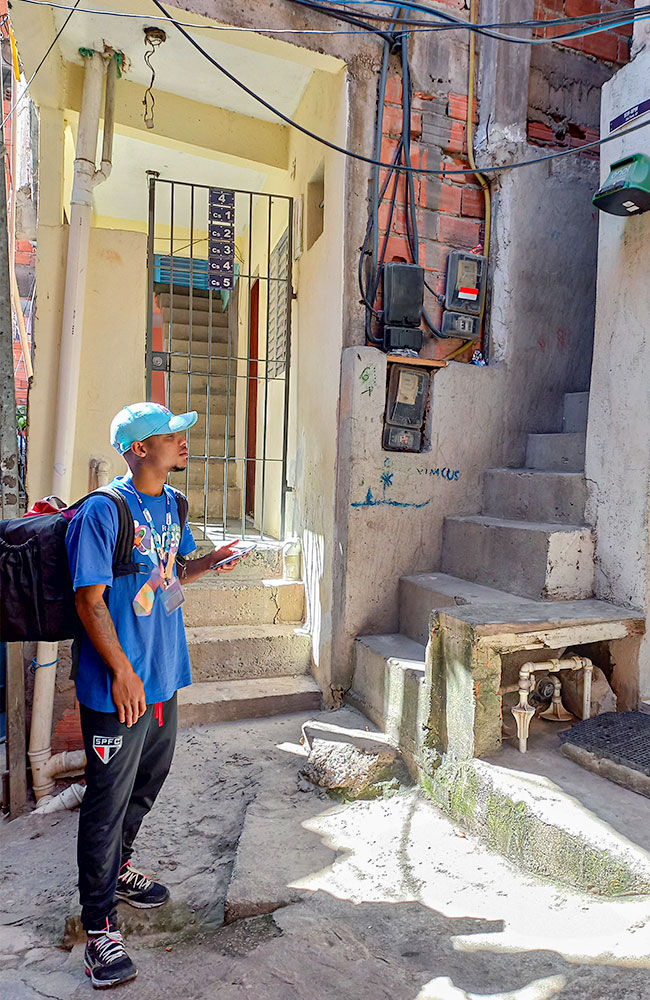 Favela Brasil Xpress does not charge favela residents for deliveries, but rather charges a fee to e-retailers for delivering the packages, and they have a 30-kilogram limit for deliveries to steep alleyways and corridors.
In order for deliveries to be received, online shoppers must input an official postal code of a nearby main street along with a point of reference near their home on the e-retailer's shopping platform. Local delivery drivers use the information to deliver the package to their doorstep.
"We can find the resident's house by the reference point. So the delivery person who knows that reference point, who lives in the community, is sometimes even the neighbor of the person," explained Pereira.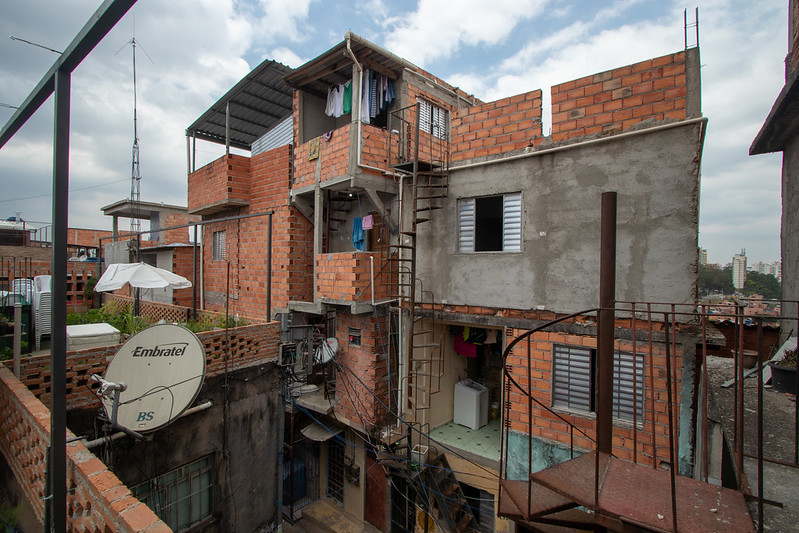 Favela Brasil Xpress is also looking to leverage available technology to make their delivery service even more precise. A partnership with Google Maps' Plus Codes is gradually being integrated into their platform, assigning an alphanumeric code to each house in the community via latitude and longitude, significantly streamlining the location process. The first phase of the project was financed by Americanas, with the second phase being fully funded by Google, according to Pereira.
"Today we spend something like one hour routing [deliveries]. With the arrival of Plus Codes, we will spend 30 seconds," said Pereira.
Since launching in 2020, the company has delivered more than 1 million packages, amounting to about R$700 million (USD $136 million) in commerce, and they've generated R$7 million (USD $1.36 million) in revenue, according to the CEO. They've also expanded outside of Paraisópolis and São Paulo, now operating in seven favelas across Brazil.
Pereira also told us that they currently make around 7,000 deliveries per day across the favelas in which they operate.
Last year, the startup raised R$930,000 (USD $180,000) through an IPO on the Favela Stock Exchange, a platform launched in November of last year to attract investors to businesses developed and operated in Brazilian communities.
Now, with more plans to implement new technologies, Pereira anticipates growth — and the sky is not a limiting factor.
"We want to test drone deliveries within the communities because it's not only fast but also cheaper. We are waiting for authorization from ANAC [the Brazilian Civil Aviation Agency] to make the first flight, the first test," he said.
This article was originally published by Thiago Alves on Brazil Reports, an Espacio partner publication.