The Daily Show host Trevor Noah launches the Trevor Noah Foundation in partnership with Microsoft to help orphans and at-risk youth to excel in the classroom and beyond.
The Trevor Noah Foundation was launched today in Johannesburg, South Africa with a series of panels and discussions on how to equip "orphans and vulnerable youth with the education, life skills, and social capital necessary to pursue further opportunity upon graduating high school or matric."
Education was the main theme with technology coming as a supplement and not the dominating factor in the foundation's vision.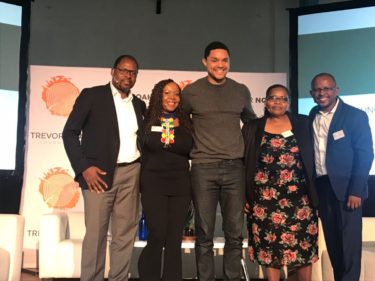 "Fundamentally, it is an organization that is initially going to focus primarily on education. Figuring out how to bridge the gap between a child and the education that we feel that they deserve," said Noah live on Facebook.
The South African comedian turned entrepreneur went on to explain that his new foundation will be one that focuses on bridging educators and institutions with access to capital and the necessary tools for young people to succeed.
"We're trying to create an environment where students have the best chance of succeeding," said Noah, adding, "computer labs with the help of Microsoft is like saying hey! here, we're going to give you the best technology, so you will have access to the tools […] so we can help you as a school get you to where you need to be."
The Trevor Noah Foundation will be investing in psycho-social support, skills development, and career guidance. By partnering with government schools, researching innovative approaches, and mobilizing philanthropic capital, the NGO hopes to drive sustainable change that improves the lives of the most vulnerable youth in South Africa.
Microsoft will be supplying computer labs to the South African foundation, but for both Noah and Microsoft, the most important aspect is ensuring that all children and educational institutions have access to the tools they need, so that no children slip through the cracks.
"If you have the choice between going to a school with great computers and one with great teachers, choose the teachers. But, youth can achieve more when they have both," said Microsoft president Brad Smith.
The Daily Show host reiterated the same sentiment about the partnership, saying, "Our project goes beyond the computer lab; it is about connecting people."
Noah is no stranger to Microsoft. In 2016, he gave a talk to the Microsoft community about his new book: Born a Crime, the importance of diversity in the workplace, and why it's okay to be wrong sometimes.
And last November, Microsoft CEO Satya Nadella even made an appearance on The Daily Show. You can check out the clip below.