It's safe to say that the world of social media stardom is continuing to grow at a rate that most people couldn't have predicted just two or three years ago. No longer are YouTubers just creating video content, but they're venturing into the world of music, acting, fashion, and hey, even boxing.
If you're a big-time social media influencer in 2018, it's safe to say your actually much more than that, you're a business, an entity and you're probably changing what people now perceive as "a celebrity".   
But being a big time YouTuber isn't always plain sailing. When YouTube tightened up their policies on AdSense last year, most YouTubers were hit financially. Some adjusted their content to make it cleaner and thus, more advertiser friendly. But others looked at various other avenues in which they could monetize the large audience they'd accumulated online, and this was mostly done through selling merchandise.
In many ways, Social Media stars being hit with the "Adpocolypse" can be closely compared to the music industry. When streaming became the norm, Musicians had to change the way they traditionally did things in order to make sure that the bottom line remained unaffected. This meant more concerts and selling more t-shirts, a formula that all our favorite YouTubers have recently followed.  
When it comes to selling merchandise online it helps when you have a rabid audience immediately ready to purchase it, but, it also helps if that audience can purchase straight from the platforms that they so closely follow you on. Stars like Liza Koshy and Logan Paul both of whom have their own online stores, have recently capitalized on Instagram's latest feature where it now allows you to make your feed shoppable, and purchase straight from a post. The old adage "Link in bio" might now be a thing of the past, as you can now go from your favorite influencers photo to the "Add to cart" section on their site with just three clicks.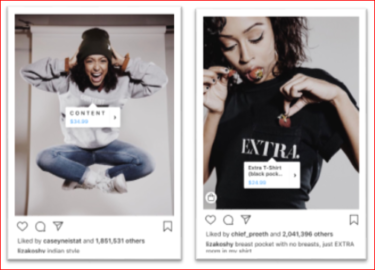 While many social media stars are capitalizing on this, some approach it with different strategies. Liza, integrates shoppable posts into her own personal account, allowing her 17.4 million followers to shop directly from her feed, while Logan Paul has taken somewhat a different route, creating an entirely separate Instagram for his clothing line "Maverick by Logan Paul" and making the majority of the posts there shoppable.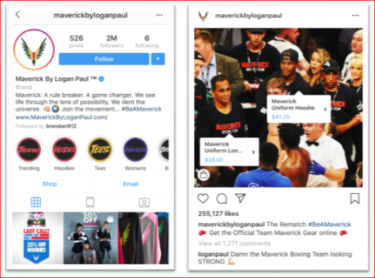 Regardless, the day of a YouTuber just being a content creator is long gone, and like anything, the best ones are usually savvy, smart businessmen and women that continue to innovate and look for new ways to entertain and grow their fanbase.