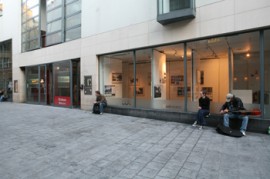 RTÉ and Filmbase are offering young Irish film makers the opportunity to win €20,000 in production funding  and facilities  to make their next short film.
The  annual Filmbase/RTÉ Short Film Awards are open to new and young Irish filmmakers with a total of up to four winners to be chosen.  The competition is split into two rounds, each of which will have two winners.
Candidates for the prize will be required to submit anonymous  scripts of 8 to 12 minutes, which will be whittled down to a shortlist of 10 candidates.  The shortlisted candidates will invited to assemble a production team and a sample video package for further assessment.  The production team will then be required to attend an interview with RTÉ and Filmbase.
In this round two successful scripts will be chosen from this shortlist to receive the winning prize of €10,000 in production funds and access to further €10,000 worth of production equipment.
The winning films will also be broadcast on RTÉ TV and may be broadcast on the RTÉ Player.
Speaking about the competition Filmbase Director, Alan Fitzpatrick, said "The Filmbase/ RTÉ scheme has always tried to uncover and support new Irish filmmaking talent and has been a first port-of-call for many filmmakers looking for funding. This year Filmbase celebrates 25 years supporting Irish film and we're particularly encouraging applications from people with fresh, original ideas."
Ireland has a successful track record in producing shot films, over the past eight years seven Irish films have been nominated for Oscars.
The competition deadline closes on Friday March  25 with another round to take place later in the year. Applicants must also submit an application form (PDF | 92kb).