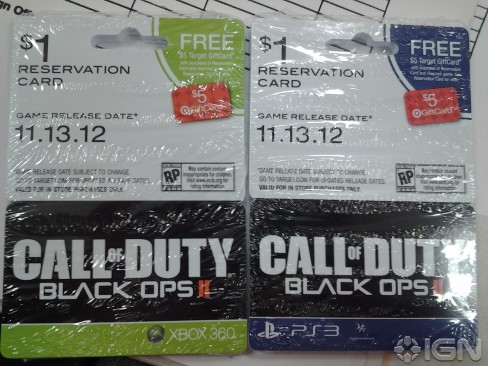 The title of the forthcoming Call of Duty release has been confirmed as Call of Duty: Black Ops 2 and pre-orders of the Activision title will begin as early as next week, May 2.
This confirmation comes courtesy of IGN and a leaked Target Black Ops 2 reservation card. Black Ops 2 is expected to be officially announced on May 1.
Activation has two games developers – Infinity Ward and Treyarch – working on the Call of Duty series concurrently, with staggered biyearly title releases from each. Infinity Ward is responsible for developing the main Modern Warfare game series while Treyarch concentrates on Black Ops and World at War titles. Since Infinity Ward released Modern Warfare 3 last year, it comes as no surprise really that Black Ops 2 would be this year's release.
Infinity Ward is arguably the more popular of the two developers but sales of Black Ops 2 are still expected to be record breaking. The game will be released on PS3 and Xbox on November 13 for definite, with a PC, Nintendo Wii and Nintendo DS versions likely to follow.