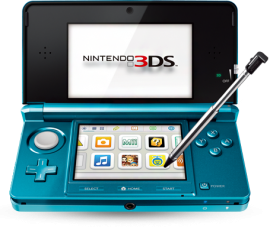 We knew it was due soon and today Nintendo announced that their innovative 3D handheld games console, the 3DS, will be released in the UK and Ireland on March 25th (March 27 in the US).
Nintendo has not released a price the console but UK retailers such as HMV and Play.com are taking pre-orders at between £219.99 and £229.99.  In Ireland Smyths is listing the games machine at €269.99.  Play.com's Irish site is selling the console for a staggering €307.00, €40 more expensive than Smyths.
Nintedo 3DS release titles
Asphalt 3D (Ubisoft)
Bust-a-Move Universe (Square Enix)
Combat of Giants: Dinosaurs 3D (Ubisoft)
Crush 3D (Sega)
Dead or Alive Dimensions (Tecmo Koei)
Dual Pen Sport (Namco Bandai)
Lego Star Wars 3: The Clone Wars (LucasArts)
Madden NFL Football (EA Sports)
Nintendogs & Cats (Nintendo)
Pilotwings Resort (Nintendo)
Pro Evolution Soccer 2011 3D (Konami)
Rabbids Travel in Time (Ubisoft)
Rayman 3D (Ubisoft)
Resident Evil: The Mercenaries 3D (Capcom)
Ridge Racer 3D (Namco Bandai)
Samurai Warriors Chronicles (Tecmo Koei)
Shin Megami Tensei: Devil Survivor Overclocked (Atlus)
Steel Diver (Nintendo)
Super Street Fighter IV 3D (Capcom)
The Sims 3 (Electronic Arts)
Super Monkey Ball 3D (Sega)
Super Street Fighter IV 3D (Capcom)
Thor: God of Thunder (Sega)
Tom Clancy's Ghost Recon Shadow Wars (Ubisoft)
Tom Clancy's Splinter Cell 3D (Ubisoft)
The handheld console will come with 30 release titles, including The Legend of Zelda™: Ocarina of Time™ 3D
, Street Fighter IV 3D and Raymen 3d and, most importantly, it will be backward compatible with the current generation of Nintendo DS titles.  The hardware itself will come with a Wii like motion sensor, gyro sensor and a PSP-like joystick.