The 50-in-5 Digital Public Infrastructure (DPI) campaign launches to accelerate digital ID, digital payments systems, and data sharing among 50 countries within the next five years.
In partnership with the United Nations, the Bill and Melinda Gates Foundation, Co-Develop, and others, the 50-in-5 campaign brings together both developed and developing nations to collaborate and share knowledge on best practices for Digital Public Infrastructure rollouts.
DPI consists of three main components:
Digital ID
Digital payments systems
Data exchanges between public and private entities
Kicking off today's launch event Co-Develop senior communications manager Garikai Nhongo said, "In five years we are expecting that 50 countries will have designed, launched, and scaled at least one component of their DPI stack in a safe and inclusive and interoperable manner."
So far, 11 "First mover" countries have signed-on to the 50-in-5 campaign; they are:
Guatemala
Norway
Estonia
Moldova
Senegal
Sierra Leone
Togo
Ethiopia
Sri Lanka
Bangladesh
Singapore
Digital Public Infrastructure promises to bring about financial inclusion, convenience, improved healthcare, and green progress.
According to a 50-in-5 video presentation from Bangladesh, DPI provides "better access to critical services like health and banking" while "optimizing time and cost savings for its citizens."
For example, "By introducing the use of digital IDs within the banking sector, the National Bank of Bangladesh concluded they can reduce the time needed to onboard and open accounts for customers from between four-to-five days down to just five minutes."
Representing the Bill and Melinda Gates Foundation at the 50-in-5 launch event, Melinda French Gates said that with the right investments, "Digital Public Infrastructure will help us accelerate progress across all the health and development goals."
Gates added:
"By 2028, more than 500 million more people will have a digital identity that allows them to access employment and education opportunities more easily, as well as financial services, healthcare, and government programs."
Giving the keynote address at the 50-in-5 launch event, Moldova's Deputy Prime Minister and Minister of Economic Development and Digitalization Dumitru Alaiba, said that Moldova was modelling its "government super app" after Ukraine's Diia platform, which aims "to enable all life situations" with digital ID.
"Over the next five years, we are committed to enhancing and establishing key DPI components: the payments system, the digital signature, the digital identity — all of those components are available in Moldova. They are currently being in a permanent state of evolution," said Alaiba.
"The source of our biggest excitement is our work on our government's super app. It's modeled after the very successful Ukrainian Diia app […] which will be launched in the coming few months.
"The way we see it, it's a one-stop-shop for citizen-to-government and business-to-government interaction without need of any hassle, any bureaucracy, any paperwork, and so on," he added.
Most speakers at the 50-in-5 launch spoke passionately and excitedly about DPI rollouts in their own countries, and how their governments could better serve their citizens through digital transformation.
While some countries like Estonia began their rollouts years ago, others credit the pandemic as the catalyst that accelerated implementation.
Take Togo, for example.
Togo's Minister of Digital Economy and Transformation Cina Lawson told a 50-in-5 panel that the Togolese government began its DPI journey with the arrival of COVID-19.
First, the government set up a digital payments system within 10 days.
"We deployed it, and we were able to pay out 25 percent of all Togolese adults, and we distributed $34 million that the most vulnerable Togolese received directly through their mobile phones," said Lawson.
Then, came vaccine passports.
"We created a digital COVID certificate. All of a sudden, the fight against the pandemic became really about using digital tools to be more effective," she added.
None of the so-called COVID-19 "vaccines" were ever proven to prevent transmission, and last year a representative of Pfizer told the European parliament that Pfizer never even tested its vaccine for preventing transmission.
Vaccine passports, by their very nature, serve as a form of digital identity, according to the WEF.
The WEF envisions digital identity being linked to everything from financial services and healthcare records to travel, mobility, and digital governance — all of which are components of DPI.
A WEF report on "Reimagining Digital ID" published in June 2023, says:
"Digital ID may weaken democracy and civil society."
"The greatest risks arising from digital ID are exclusion, marginalization and oppression."
Requiring any form of ID risks exacerbating fundamental social, political and economic challenges as conditional access of any kind always creates the possibility of discrimination and exclusion."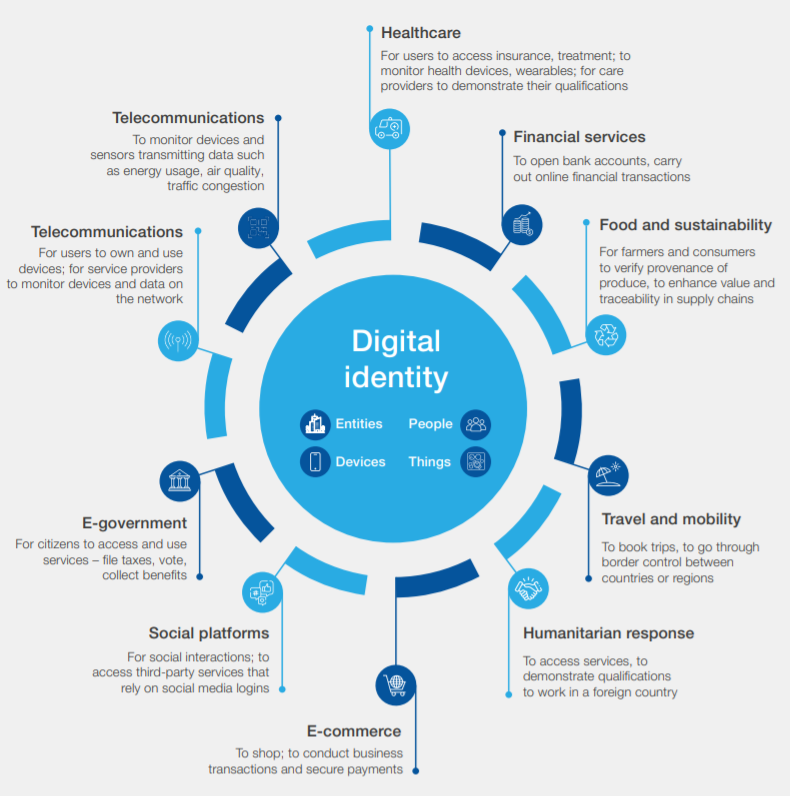 Back at the 50-in-5 launch event, the Togolese minister said that Togo was working with the World Bank to deploy a biometric digital ID "for all our citizens using MOSIP [Modular Open Source Identity Platform]."
MOSIP is a Gates Foundation-funded platform that "helps governments and other user organizations implement a digital, foundational identity system."
The 50-in-5 campaign is a collaboration between the Bill and Melinda Gates Foundation, the United Nations Development Program, the Digital Public Goods Alliance, the Center for Digital Public Infrastructure, and Co-Develop; with support from GovStack, the Inter-American Development Bank, and UNICEF.
The Center for Digital Public Infrastructure is backed by Co-Develop and Nilekani Philanthropies.
Co-Develop was founded by The Rockefeller Foundation, the Bill & Melinda Gates Foundation, Nilekani Philanthropies, and the Omidyar Network.
The Omidyar Network is a funder of MOSIP.
The Digital Public Goods Alliance lists both the Gates and Rockefeller foundations in its roadmap showcasing "activities that advance digital public goods," along with other organizations and several governments.
Key themes from nearly all participants in today's 50-in-5 campaign launch were: interoperability, making everything open source, taking a whole-of-society approach, leaving nobody behind, climate change adaptability, and public-private partnerships.
At the time of this publication, the 50-in-5 YouTube channel has blocked websites from embedding the launch video, but you can check out the entire event here, as there is much information not included in this report.
---
Image Source: 50-in-5 Launch Event via YouTube