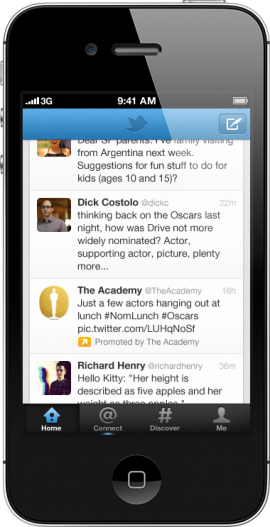 Twitter is continuing its push to bring Promoted Products to mobile users as Promoted Accounts are now displayed in the official Twitter app for Android and iPhone.
Previously, Promoted Trends and Promoted Tweets were displayed in search results on Twitter for Android, Twittter for iPhone and the mobile web version. Promoted Accounts and Promoted Tweets in the timeline have been available on Twitter mobile web for some time.
As well as introducing Promoted Accounts for Twitter's two most popular official mobile apps, Android and iPhone, Twitter will introduce Promoted Tweets in the timeline on these apps in the "coming weeks". Initially, only Promoted Tweets from brands you already follow on Twitter will be displayed, but expect this to revert back to normal relevancy-based rules for Promoted Tweets after an introductory period.
Promoted Products, Twitter's advertising model, display on mobile as they would on Twitter.com. Promoted Tweets in the timeline appear only once like regular tweets, with Promoted Tweets in search only displayed when considered relevant to the user.
Twitter released updates for its iPhone and Android mobile apps last week.