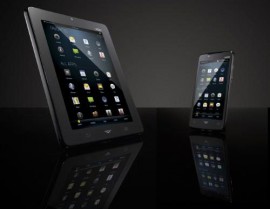 Vizio, the TV manufacturer giant, have announced plans to launch their own Android powered smartphone and tablet devices. The devices are expected to be known as the VIA Phone and the VIA Tablet.
Both devices share good specifications, each with a 1GHz processor, WiFi and Bluetooth connectivity, GPS, a MicroSD card slot, HD video playback, and front-facing cameras.
The tablet has an 8-inch screen and three speakers providing stereo sound. The VIA Phone has a 4-inch screen and a five megapixel camera.
Interestingly both devices include HDMI output, and an infrared blaster for autonomous control over external devices. Are Vizio trying to integrate their new devices with their existing and established electronic devices? The company plans to reveal more details later this week at 2011 International CES – the world's largest consumer technology tradeshow.