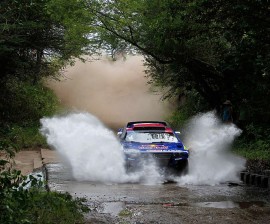 The Dakar Rally, one of the largest off road endurance rallies in the world, has launched from Buenos Aires.
The Dakar is now a fully digital event supported by YouTube, Twitter and Facebook pages. You can get live updates on each stage of the challenge on their site and on the official Dakar iPhone/iPod/iPad app. The organisers have also released an online video game to accompany the event.
The 32 year old event, also known as the Paris-Dakar, is traditionally run from Africa to Europe but this year, as in the three previous years, the race is being run on the South American continent.
While the move to South America may make it more difficult to watch for Irish and UK fans the organisers say the tropical terrain will make for more interesting driving.
The immense size of Argentina will stimulate the imagination of all who love great tracts of open country. Leaving Buenos Aires, the northern route takes competitors into a land of contrasts where in a single day or within a hundred kilometres, the vegetation completely changes with the landscape. In the same way, driving skills required change between dry and wet. The ability to adapt will be rewarded and those with a taste for changes of scene will feel most at home. Over the first three days of the first Argentine section, the Dakar ventures in particular into the provinces of Jujuy and Salta and comes close to Bolivia. It's here in these new areas mapped out around the mythical Route 40 that the Rally ventures..
The rally runs from January 1st to 16th 2011.