Google's Doodle wasn't the only treat (or trick, depending on your point of view) that Google had ready for Halloween, having rolled out its overhaul of Google Reader late on October 31.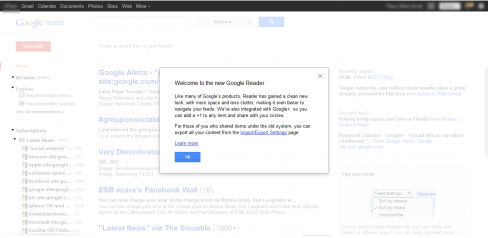 Apart from the graphic change, which brings Reader in line with Google's other redesigned services; Google Reader now includes +1's for feed items and greater integration with Google+.  And as warned previously, Google has removed Google Reader's ability to friend users, follow users, and sharing inside the web app.
Google's changes to Reader were controversial, even spawning its own Occupy Google Reader group (but then again, what doesn't spawn an Occupy movement these days); with a small but loyal set of users upset that Google would remove functionality rather than improve the service.
Speaking directly to users who are angered by the changes to Reader, Google said in a blog post today that it was seeking feedback on the changes to the service "If [they] decide to stay."
Adding, "We hope you'll like the new Reader (and Google+) as much as we do, but we understand that some of you may not. Retiring Reader's sharing features wasn't a decision that we made lightly, but in the end, it helps us focus on fewer areas, and build an even better experience across all of Google."
Google has been aware for some time of the loyal audience the service has generated and in this release it has updated Reader's feed export features.  The export features allow users to export their RSS subscriptions, liked items, list of people they follow and who follow them, notes, comments, and shared items.

The removal of friending, following, and sharing features of Google Reader, as well as the inevitable retiring of Google Buzz, now means that Google has concentrated its main social footprint to its Google+ social network.  This allows the company to focus on the development of the Google+ ecosystem as part of Larry Page's rationalisation of Google's services.
Also today Google announced that it will be updating the Google Reader Android app in the coming weeks, although it made no announcements about the app's features.