Google+ is quickly becoming a valuable source of information for journalists, bloggers, and news junkies everywhere.  And, of course, Google is aware of this – last week it quietly released its Twitter-like trending topics for search, making is a stronger competitor to Twitter.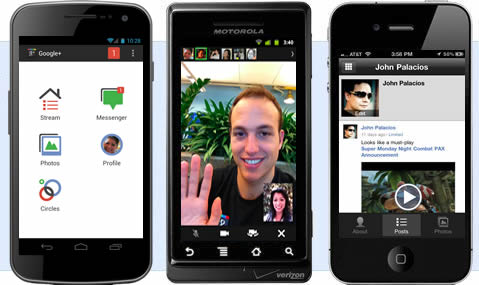 One of the best features Google+'s mobile app is its Nearby Stream.  This, as the name suggests, shows what users are sharing on Google+ within a few miles of your current location.  Like Twitter's local trending topics the Nearby Stream is particularly useful if you want to see what people are sharing in places where news is breaking.
Yet, so far, this stream is not available on the desktop version of the site.  But it is possible to see what geotagged posts people are sharing nearby if you are on your desktop.
Google+ Mobile View
To see geotagged posts near you all you have to do is log into Google+ on your desktop and then open the mobile version of the site, which you can access here.  This will show you what is being shared near you, although exactly how near changes depending on your internet connection and whether you are using a public or home network.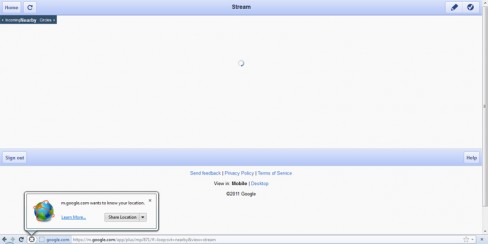 When you load the page in Chrome or Firefox your browser will ask you if you want to share your location with the site, say yes to this and the site will load geotagged posts near you.
But what if you want more specific results (ones that are genuinely nearby), or results from other locations entirely?  First you'll have to fake your location using your browser; fortunately this is not too difficult in Firefox.
Changing your location
To make Google+, or any site that asks to know your location, think you are somewhere else download the Geolocater addon for FireFox.  The addon is easy to use – Make Use Of has a brilliant post on how to get it going – although we did have to reboot our machine to get it working for the first time.
You can choose your location using the addon's map and also set a catchment area you want to see posts from – this can be as large as 166Km or as close as 50m.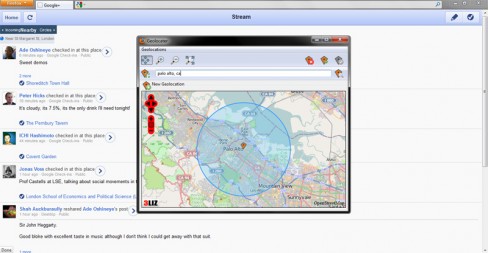 So if you want to check in on the Thanksgiving Day Parade in New York you can set your location to Brooklyn.
But if you want to see what's going on in London, you can set your location to Westminster.
The Nearby Stream won't replace Google+'s search (a feature not available on the mobile app) but it does offer another source of data that search can miss.