In this the second part of our start-up series we look at how your inbox has become your new social hub, and how services like BrandMyMail, can deliver your social activities to your customers and clients. Read our first post, about Yotta, the new web service witch aims to increase your website's speed.
You mightn't have noticed it as it happened but 2011 was the year that your inbox became another hub for your social network. Gmail, Google+, Facebook, and services like Xobni for Gmail, all fought to bring your digital social life into your inbox.  But one company, BrandMyMail, wants to do things a bit different, it wants to bring your updates to your family, friends, and clients, through your email.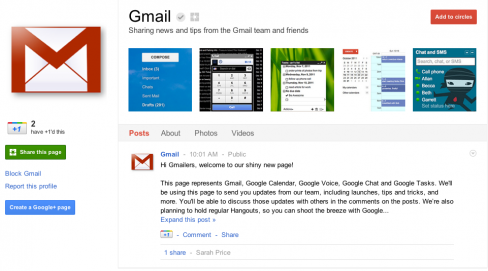 Social History
If you were to look at the Gmail interface this time last year you'd notice that it is completely separate from your social networks. Move forward to the launch of Google+ in mid 2011 and we started seeing Google+ notifications appear on the interface.  Move forward again, to Google's redesign late in the year, and you'll notice your Google+ Circles have became a central part of your inbox.
And wasn't just Gmail which went social, Yahoo! Mail's redesign in May brought social updates into its system.
Meanwhile Xobni, the successful Outlook contacts manager, was released for Gmail and allowed correspondents to connect to each other beyond simply sending emails.
Similarly Facebook, coming at the social email race from the other side, launched its email application, Facebook Messages. Facebook's aim (and one it has fallen short of) was to bring users' multiple social sources – email, social updates, SMS, and IM, under one interface.
What BrandMyMail (Facebook) wants to do is bring the social content you create on sites like Facebook, Twitter, YouTube, Flickr, WordPress, Tumblr, and eBay, and dynamically include these in your emails.  So unlike many other email social apps which attempt to bring your social network into your inbox BrandMyMail wants to bring your social network content to your contacts and allow friends, family, and business contacts to discover more about you and/or your business.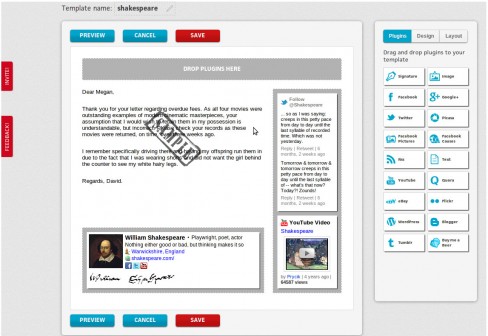 BrandMyMail
BrandMyMail co-founder, Limor Schweitzer, says "BrandMyMail offers small and mediumbusinesses a new way to promote themselves and really establish a distinctive brand through a custom social signature.  It becomes an additional channel to integrate email communication with social networks, so a simple email can be a vehicle for teaching potential customers or partners about the latest marketing initiatives or other important announcements"
The site operates through a drag-and-drop interface which connects to Chrome, Firefox, and iOS through an addon.  Through the website users can build a email templates using a number of social sources and layouts.  These templates are then integrated into Gmail through the plugin which combines your email's text with your social template.
Building Your Social Emails
For start-ups, and businesses that are new to the social web, it is natural to want to promote each of your social profiles whenever you can.  But we recommend keeping your social email templates in line with your business goals.  If your Twitter and Facebook statuses are the same then it's better to only include one rather than both.  If you are running a Facebook campaign or want to increase your number of fans then it will be more beneficial to include your Facebook than Google+ content.
Also make sure that you only include social sources that you update on a regular basis; that two month old WordPress blog post might not be the best way to promote your dynamic new business.