The recent economic slowdown has impacted everyday Americans in different ways.
One sub-group, pet owners, have their wallets squeezed so tight that some are facing the difficult decision of choosing between feeding their pets and feeding their human family members. 
In a recent report from The Wall Street Journal, 50% of pet owners surveyed reported actively taking steps to reduce pet-care costs in the past year, with over 25% skipping or delaying a vet visit or routine medication in order to save money.
Inflation, like in many consumer goods sectors, has impacted the pet sector.
As of January, pet food inflation hit 15.1% year over year, compared to the overall United States consumer price index (CPI) which reached 6.4% in January. Pet supplies too were impacted to a lesser degree by inflation, starting 2023 at 7.2% in January, down from 7.7% in December of 2022.
There are, however, signs that pet goods prices could stabilize soon. For example, the cost for pet food companies to produce their products began to fall, which could signal a break for pet owners' pocket books shortly down the road.
And despite the recent economic challenges, pet ownership is up, driven mostly by COVID-19 era lockdowns when more young people adopted pets for company. In 2020, pet product sales grew faster than the rate of the U.S. economy as a whole.
Because the love and ability to care for our pets should never be impeded during tough economic times, Leap Venture Studio, a pet care startup accelerator, says it dedicates itself to investing in companies that work toward more sustainable solutions that also make pet parenthood more accessible.
Pet-tech aims to make pet ownership more sustainable
Leap Venture Studio began in 2018 as a partnership between Michelson Found Animals and Mars Petcare, one of the world's leading petcare companies, to springboard innovation in the pet industry.
The accelerator program offers pet tech and pet care startups USD $200,000 in initial funding as well as access to resources, mentors, networking opportunities and brand and marketing services specific to their needs.
Given Mars Petcare's deep industry links, the program also provides startup founders with access to a network of industry experts, investors and petcare corporations including Mars Petcare, Michelson Found Animals and R/GA Ventures. The aim is to help startups reach their goals more efficiently by providing a robust network of support.
Leap Venture Studios on Tuesday announced its seventh cohort of seed-stage pet care startups that will be participating in their 12-week accelerator program between March and June 2023.
The cohort will culminate with a Demo Day on June 8 in Nashville, Tennessee.
"This year's cohort is a great mix of industry segments. We have companies working on scaling diagnostics and at-home pet health care, nutrition brands putting the planet and women founded businesses at the forefront of their business model, and a D2C platform bringing solutions to pet parents in Costa Rica," said Rachel Sheppard, Director of Ventures at Mars Petcare and co-lead of Leap Venture Studio.
The startups selected for the seventh Leap Venture Studio cohort include:
For those interested in learning more about these startups, the Demo Day on June 8 will be broadcast live on YouTube.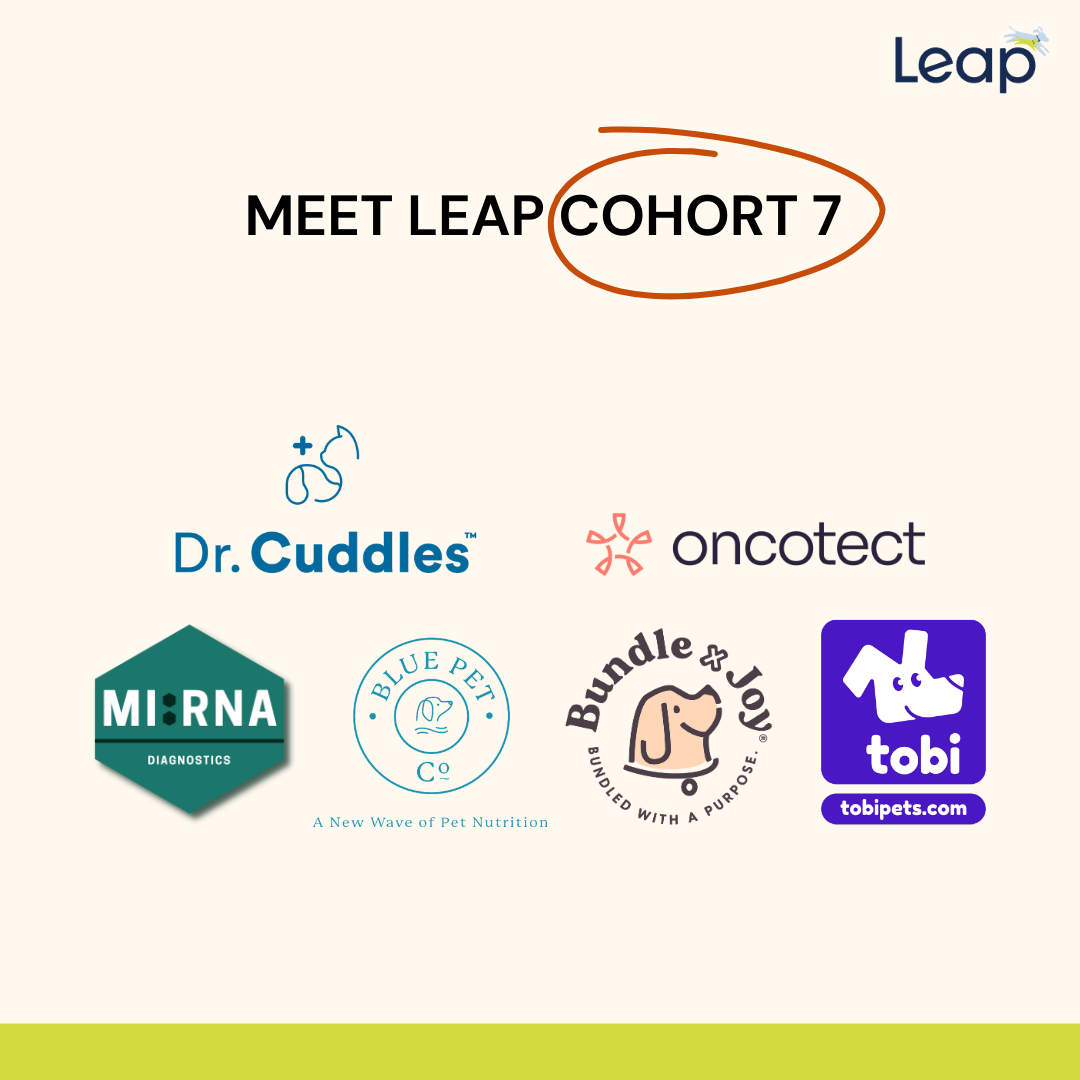 Since its inception, the Leap Venture Studio accelerator program has helped over 40 companies go on to raise USD $170 million in follow-on capital, with USD $100 million coming in 2021 alone, and has helped lead two companies to successful exits.
Whether creating a marketplace to help find better prices for pet care products in Costa Rica, or using innovative bio testing technology to decrease the cost and increase the efficiency of cancer screening in pets, the startups selected for the seventh cohort of Leap Venture Studio hope to make pet ownership more affordable, as well as rewarding.
Disclaimer: This article mentions a client of an Espacio portfolio company.