Google have just released a small amount of high resolution aerial and satellite imagery of Ireland. The imagery is only available to view in Google Earth but will be expanded to Google Maps "soon".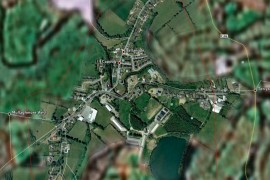 Areas of Monaghan, Louth, Meath, Westmeath, Roscommon, Galway, Limerick, Wexford, Waterford, Kilkenny, and Kerry have all received updates.
This example shows the village of Ballinode in County Monaghan, that prior to today was just another slightly grey blotch on a map.
A lot of other countries have received updates today also. A complete list of all updated areas can be seen by opening this KML file in Google Earth.
We at The Sociable love Google Earth and hope that this imagery update is just a teaser of more to come.