Some of the biggest names in technology descended upon Dublin last week for the Web Summit, joined by 250 startup exhibitors in an event that has well and truly marked itself on the annual tech calendar. The event was quite an adventure for us, team Rolio, as we were successfully accepted to exhibit in the Startup Village from over 600 applicants. In addition to this, Rolio was shortlisted as one of 100 finalists in Electric Ireland Spark of Genius startup competition. [Read The Sociable's exclusive interview with the 2012 winners]
The competition had over 1000 applications from 36 countries, all vying for the €100,000 prize. Having only launched in July 2012, this would be our first time representing Rolio at a conference (@rolio | Facebook).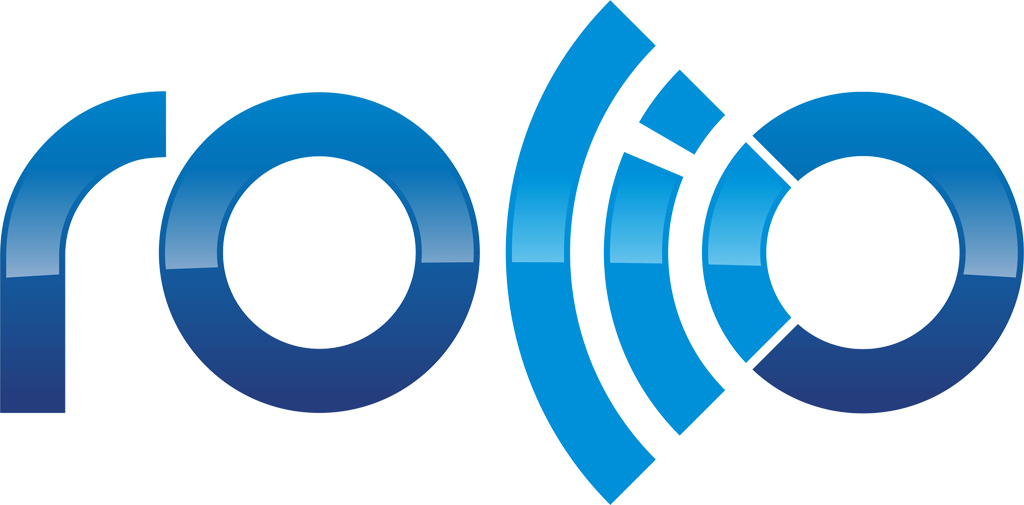 This is our story of the Web Summit 2012.
Preparations
Preparations were intense; ranging from the Spark of Genius presentation, the creation of posters and bagging packs of Rolo chocolates to give away at our stand (Rolio – Rolo, see the link?). As the Web Summit approached our overriding emotion was a nervous excitement due to the uncertainty ahead of us. We arrived in Dublin the night before the Summit and were pleasantly surprised to see the helpful Web Summit team had a stand at the airport arrivals section to greet us.
The following morning we made our way to the Royal Dublin Society (RDS) and breezed through registration. Armed with our conference passes, drinks vouchers for the evening's social events and a programme schedule, we proceeded to our stand with a sense that it was all official now. The Startup Village consisted of two levels, the ground floor and the balcony; Rolio was positioned in the latter. We were a stone's throw away from the refreshment point which served complimentary beverages, croissants, cakes and fruits. We setup our stand and shortly after greeting our fellow startup neighbours we received our first passer-by enquiring about Rolio. Our schedule for the day consisted of pre-arranged meetings with investors, the Spark of Genius presentation on stage and, of course, providing demonstrations of Rolio at our stand.
Goals
We hoped to fulfil our main goals of (a) improving recognition and exposure of our brand and product, (b) discovering how attractive we were to investors, and (c) gauging the general face to face feedback from people at our stand.
The Web Summit organisers had arranged a series of short meetings for Rolio with various investors, so we headed over with real anticipation for our first meeting. Unfortunately our excitement soon turned into frustration as we saw a hoard of eager startup founders besieging a single organiser, who was holding a laptop and frantically trying to direct people to their assigned investors, some of whom (including ours) were sadly no-shows.
Thankfully, the afternoon session involved a simple queuing system for each investor and a two minute pitch. After pitching to one investor you could queue up and pitch to another investor. Despite the sometimes lengthy queues, this system was far more organised than the manic morning session. As for the meetings, think of them as a speed dating type process where you have two minutes to pitch your product and hope to spark some interest.
Spark of Genius pitch
The time soon came for our participation in the Spark of Genius competition – a four minute presentation to the audience and a panel of judges, followed by two minutes of Q&A. Given the location of the pitching stage within the hubbub of a busy conference floor, it was definitely a nervous wait for our turn, but it was a fantastic experience. It was a great honour to be selected as a finalist and despite not progressing further in the competition, we were grateful to have received the opportunity to participate in such a competitive field.
Following the presentation, we grabbed a quick lunch in the food hall which served both hot food and a wide variety of salads and sandwiches. Overall, the catering throughout the Web Summit was excellent and complimentary.
After hours
At around 5pm we packed up for the day and there was an air of excitement amongst conference attendees about the planned evening events, especially on Twitter. The evening consisted of a group of venues (bars) which were exclusive to Web Summit attendees. The programme mentioned "You never know who you might bump into…" and this proved to be true. We recognised quite a few faces ranging from editors of TechCrunch, to judges and on-stage speakers whom we had seen earlier in the day.
With five venues to choose from, we found the atmosphere relaxed in each with lots of interesting conversation and good music, including a selection of live bands. It's an amazing sight witnessing techies attempt the Gangnam style! Once the midnight hour had arrived our tanks were running low and, with a long day ahead of us, we returned to our hotel for a well-deserved sleep.
The day after the night before
Unsurprisingly, the second day of the Summit started slowly, with many recovering from a late night! Things soon became busy again, and the day followed a very similar pattern to the first. Our biggest breakthrough came with the placement of a stand-up advertising banner which we brought over with us from England. Although we were initially told that the use of the banner would be permitted at our stand, this was subsequently prohibited by the organisers, most likely due to the 4000+ attendees who were expected.
Microsoft's BizSpark Plus
After some deliberation, we decided to ask Microsoft if we were able to place the banner on their stand, given that we are sponsored by them under their BizSpark Plus program for high potential start-ups. Microsoft kindly agreed and before long the Rolio banner stood in prime Web Summit real estate on the ground floor, where foot traffic was at its highest.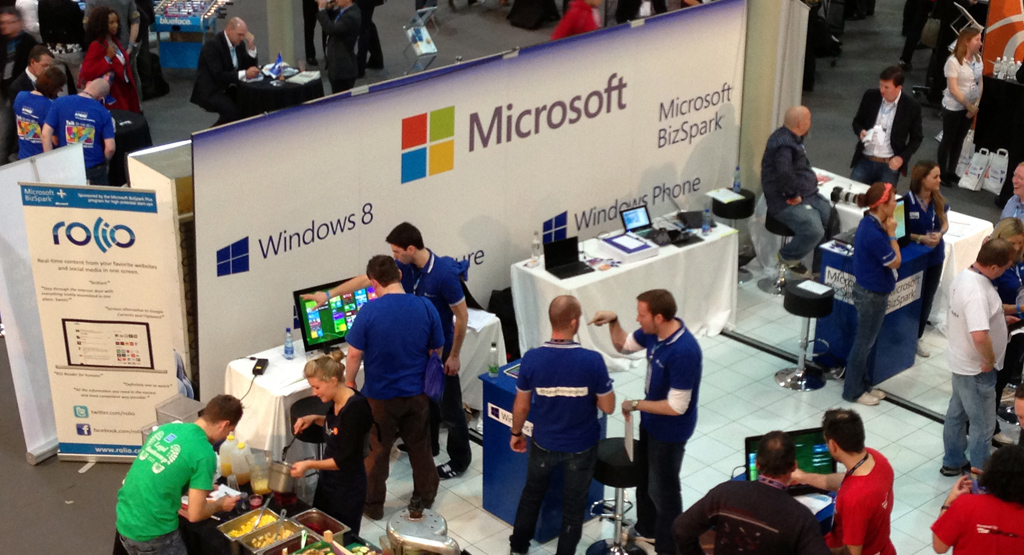 The moral of the story, if you don't ask, you don't get! Again, we decided to end our Web Summit visit at 5pm and packed up with a sense of content at how our first tech conference had gone. We bade farewell to our neighbours and celebrated our hard work with a well-deserved night out in Temple Bar sampling the busy bars and nightlife Dublin had to offer – definitely recommended.
Top Tips
As a first time attendee at a tech conference, we thought we would provide some tips that we hope others will find useful for future events.
Business Cards – We cannot stress the importance of carrying business cards at all times. "You never know who you might bump into" and it is essential to have a quick and easy medium of exchanging contact details.
Use available resources – Be sure to use all available avenues for communication with people or companies you would like to speak to. E.g. Twitter, LinkedIn, E-mail, Facebook or specialist conference software like Bizzabo which was the networking partner app of the Web Summit. We discovered that contacting particular media attendees personally was a successful way to get them to visit our stand.
Be organised – Inevitably, you will meet and exchange contact details with lots of people and companies. Do not just collect the business cards into a pile – write brief notes with key information that may be useful in any follow-up communication. We found that we had a number of meeting commitments throughout the day so we would highly recommend a schedule of some sort to keep track of when and where these meetings are.
Preparation – We would highly advise attendees to take time to prepare. Most will have posters, giveaways or branded clothing for example, so don't be the odd one out with nothing! It is also very important to have planned responses to important questions (e.g. facts and figures) that can be thrown at you.
Backup Plan – Always ensure you have a plan B. For example at our stand, we relied on the Summit's WiFi connection to conduct live demonstrations of Rolio – this connection proved to be extremely intermittent on day one of the conference. Luckily we had created a short video of our application which allowed us to demo it without an Internet connection.
If you don't ask you don't get – A prime example of this was the stand-up banner which was kindly given prime placement in the Microsoft stand area.
Attend organised events – The evening's events at venues in Dame Lane were very well attended. The relaxed environment away from the hustle and bustle of the RDS made it easier to talk to people, including those who may have been busy with their own commitments during the day.
Overall, the Web Summit was a huge success and full credit is due to Paddy Cosgrave and the whole team involved. The Web Summit is growing yearly and has certainly cemented its place as the biggest tech conference in Europe with over 4,000 attendees from around the world.
We would like to thank everyone for being so welcoming and accommodating during our first tech conference. An experience we have thoroughly enjoyed and one that we will utilise as a springboard for future conferences. We hope to build on the contacts and connections made during the two days and hope to return to Dublin for the Web Summit in 2013, which will inevitably be bigger and better than ever before, giving its rival conferences across the pond a serious run for their money. Dublin, a Tech Capital? It certainly is. Dublin, THE Tech Capital, it certainly has potential and one day may well be!