Some time ago, we looked at services which were on the cusp of offering driverless deliveries.  At what point in development and adoption are such services today?
Read More: Amazon Go, Fresh and Prime Air: A triple threat for driverless delivery future
Drone-based Delivery Services
The use of drones for delivery purposes has received a lot of publicity in recent years.  Whilst this delivery method is far from ubiquitous, there has been development in the space.  Drones tend to be used for specialist delivery use cases.
San Francisco-based Zipline is a case in point.  The Silicon Valley startup was founded in 2014 with a view towards delivering medicine to where it is needed. Since then, the company has grown its service offering.  Having taken on drone assembly, the startup has gone on to run distribution centers – independently and in collaboration with local operators around the world.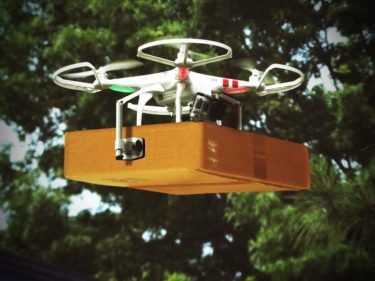 Zipline has concentrated its service provision in the developing world – particularly Africa.  It doesn't take long to piece together the rationale.  The continent includes many regions with difficult terrain and poor infrastructure.  This makes for areas where access is arduous.
Added to that, the supply of medicines is often lacking.  Its service insures that life-saving medicine reaches patients in time.  At the time of writing, the company claims to have effected over 11,500 life-saving deliveries via drone.
Having focused on use cases overseas, the company is now looking to fulfil needs in its own back yard.  Earlier this week, it emerged that Zipline will partner with North Carolina Department of Transportation with a view towards establishing a network of medical distribution centers.
Reno, Nevada-based startup, Flirtey is operating a similar business model; however, these remain niche use cases and delivery of more ubiquitous items remains a difficulty using drones.   Payload carrying capacity restricts the usefulness of a drone for delivery purposes.  If there was major adoption, noise pollution concerns may put the kibosh on it.   Take into account weather conditions and airspace restrictions and scaling up drone delivery could be fraught with difficulty.
The company which most captured the imagination of the public when it came to drone deliveries was Amazon.  In 2013, Amazon CEO Jeff Bezos claimed that within five years, drones would be making deliveries within 30 minutes of customers placing orders. Now in 2019 the eventuality of our skies being filled with delivery drones remains elusive.
Read More: Amazon wins patent for mothership to launch delivery drones from the sky
Driverless Delivery Vehicles
Aside from drones, services based on autonomous delivery vehicles are springing up.
San Francisco based startup, Robomart are making a play in this space.  By strict definition, this is not just an autonomous delivery service.
Robomart's concept is to actually bring the store to the customer.  The consumer accesses the service via an app.  The driverless vehicle arrives and the doors are unlocked with a tap of a button.  The system tracks what the customer takes from the vehicle and bills them automatically.
Read More: How the trucking industry is responding to driverless delivery disruption
Later this Spring, the company plans on rolling out the service in the Boston area, according to VentureBeat.  As part of that project, Robomart has partnered with the Stop & Shop grocery store chain.  The company aspires to operate the vehicles using an autonomous AI-based system in the future.  However, for right now, it will be tele-operated from a remote location.
Headquartered in Mountain View, California, Nuro is another tech startup with plans on disrupting conventional services in this space.  Founded in 2016, Nuro has developed an autonomous vehicle specifically designed to make grocery deliveries.  Its offering differs from that of Robomart in that the customer has already selected and paid for the groceries online before Nuro deliver them.
Earlier this week, Nuro announced that it will start a pilot program in which it will deliver groceries from two grocery stores in Houston, Texas.  The initiative stems from a collaboration with grocery chain, Kroger.  Their partnership was formed in 2018 when the two companies established a similar service in Scottsdale, Arizona.
The Self-Driving 'Shopping Bag'
Although strictly speaking, this solution is not an autonomous delivery vehicle, it's worthy of inclusion due to its unique innovative approach and besides, it goes some of the way in solving a similar problem.  A subsidiary company of Italian manufacturer, Piaggio has developed a product called Gita.
Gita is a mobile carrier that follows people as they shop, with a capability to transport 45 pounds.  The concept has the potential to effect a positive change on people's shopping experience and lifestyle generally.  That concept took a leap forward in December when the company announced that it was expanding through a facility in Boston, with a view towards further design and manufacture of the device to happen there.  The device is expected to be offered for sale later this year.
Adoption edging closer
Whilst it's taking some time to get these services rolled out, investment in the sector suggests that the confidence exists that this will be achieved.  Last month Wired reported that Japanese multinational, SoftBank invested $1 billion in Nuro.  Notwithstanding that, there are still some issues to be ironed out.
Drones – even if they overcome some of the issues mentioned above — are still best suited to specific use cases and on the basis of weight alone, they're unlikely to be capable to handle the task of general grocery delivery.
Autonomous delivery vehicles seem better equipped for the task but a question mark remains with regard to whether goods can be collected at the point of delivery without human intervention.  Solve that problem and the rate of adoption would quite likely skyrocket.