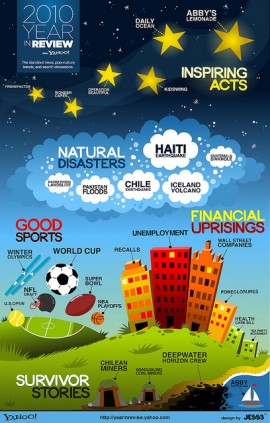 In 2010 over 25 billion Tweets were sent and about 9 billion emails were exchanged. We watch 700 billion videos on Youtube, that is about 13 million hours or the equivalent of 1,500 years of continuous viewing (We hope you like piano playing cats).
At year's end it is natural to look back, to review the dying year and take stock of what has happened. This is what the world's media has been doing this week, so join us on The Sociable's review of the reviews of 2010.
The BBC's Motion Gallery reviews 2010 in 3 minutes from a British perspective, the UK election, Chilean miners and the Icelandic volcano which grounded flights across Northern Europe feature.

2010 Was a troubled year, both tumultuous and perplexing. Natural and manmade disasters, wars and politics dominated the headlines. Between the Winter Olympics and the World Cup it was also a big year for sports. Finally, in somewhat of a miracle, the incredible rescue of 33 miners who emerged unharmed after being trapped underground for 68 days brought hope and inspiration to the world. Here, sourced from BBC News, is a look back at some of the top stories that made headlines.
France24 has chosen to view 2010 through the eyes of amateur videographers with a selection of videos from citizen journalists which they feel sum-up the year.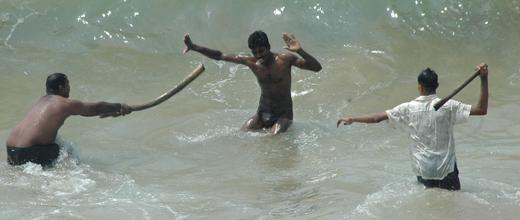 We have selected what we think are the most striking amateur videos published on The Observers in 2010. Take a look and vote for your favourite.
We have already reviewed YouTube's lookback at 2010. You can see more videos on their year review site here.

Relive the videos, people and events that defined YouTube in 2010.
In Ireland RTÉ have reviewed the sporting year in terms of the World Cup in an hour long special programme.

In the States CBSNews.com has created a special report on the highlights and low points of 2010.
CBS also reviews
2010's best TV
and
sporting events
and
Katie Couric has a look at some of 2010's highlights
.
CBS has also published a photo gallery of 2010's most popular stories.
Shira Lazar counts down the top ten videos of 2010 featured on CBSNews.com from bikini baristas to uncovering the smoking baby.

Yahoo!'s smorgasbord year in review site looks at 2010's most popular searches, trends and natural disasters amongst others. Their image sharing site Flickr has also published an info graphic of 2010
According to NASA they have had an "ambitious year of exploration" in 2010. NASA has had a year of highs and lows; this year NASA celebrated 10 years of the International Space Station and also helped in the rescue of the 33 miners trapped 800m underground in Copiapo, Chile.

ABC Australia has an impressive interactive gallery of text, video and images of 2010.

You can also download their full PDF of their review of 2010 (3.47 MB).
ABC also have a nice photo gallery.
Reuters rings in 2011 with a 60 second review of 2010.

A multimedia showcase of some of 2010's top stories, including Greek violence, Pakistan floods, Iceland's volcanic ash cloud, the arrest of WikiLeaks' founder, the Times Square bomb scare, a near attack on Iran's Ahmadinejad and the Love Parade stampede.
The Associated Press has published a great interactive photo guide to 2010 broken down by month.