2011 will be the final year of the Irish Blog Awards, Damien Mulley announced during his closing speech at the ceremony in Belfast last night.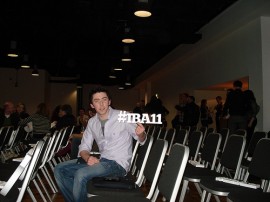 There had been no hint during the ceremony, skilfully hosted by Rick O'Shea, that this would be the last Irish Blog Awards – Mulley's announcement at the end of the proceedings came as a surprise to the 100 strong attendees. The long and genuinely emotional gasp that followed his speech showed the audience's disbelief, as did the number of confused glances swapped between members of the audience.
Damien just announced this is the last year of the blog awards 🙁

— Beatrice Whelan (@beatricewhelan) March 19, 2011
Was last night really the last Irish Blog Awards? #IBA11

— DeclanFlynn (@DeclanFlynn) March 20, 2011
Indeed, many of the award winners had spoken of their hopes for next year's awards. Rick O'Shea, who has hosted the awards for all the six years, raised some hops that they could be revived by some other bloggers but he ruled himself out of returning as host, saying, "I would not like to be involved if this man [Mulley] isn't." As O'Shea and Mulley embraced they and their fellow organisers received a standing ovation.
You can read our #iba11 tweets and (almost) live blog from the ceremony here.
There was a more sombre mood during the after-party than in previous years…although there was still some dancing.
The Blog Awards had been run over the past six years on a non profit basis by Mulley with all organisers donating their time and hard work to the event (Mulley's heroic efforts to get Wi Fi access codes for everyone from the hotel reception – having already bought 30 BT Openzone wireless cards, which wouldn't work in the events room – is some testament to this to this).
As a young blog we are honoured to have been nominated with so many greats for this, the last year of the Irish Blog Awards. We would like to join others to thank Damien, O'Shea and all involved for providing Irish blogging with such a prominent platform.