With the Dublin Web Summit in full swing Paddy Cosgrave has announced more details of the F.ounders event which is running until Saturday.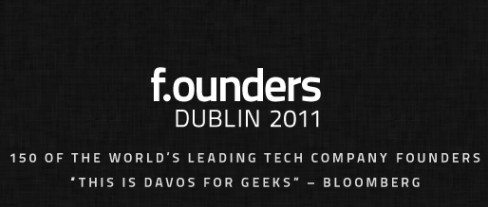 This, the second annual F.ounders event, will be attended by
Mikael Hed of Angry Birds,
Skype's Niklas Zennstrom,
Paypal's Luke Nosek,
LinkedIn's Erik Ly,
Qunar's Fritz Demiopolus, and,
YouTube's Jawed Karim.
Joining them will be some of Asia's top entrepreneurs, such as,
Richard Liu, chairman and CEO of 360Buy.com,
Peng T. Ong, co-founder of Match.com,
Beerud Sheth of Webaroo and Elance, and,
Sachin Bansal of Flipkart.
"For the next three days, 200 incredible tech leaders will gather in Dublin for F.ounders and the Dublin Web Summit.  Based on the success of F.ounders in 2010, we've had huge interest in the event and this year we have a large number of successful Indian, Chinese and South Korean founders in addition to those from Europe and the Valley," Paddy Cosgrave said.
At this year's event the founders will discuss issues affecting entrepreneurs and startups, including challenges of innovation, economic growth, and securing investment as well as wider industry issues such as philanthropy.
Speaking earlier this year about the event Cosgrave described the growth of the Asian and Irish tech scenes on the global stage,
"China and India are the largest and the most significant growth markets in the world for Irish companies and for the first time a select group of the most influential entrepreneurs and investors will touch down in Ireland. That they are coming to Ireland is significant in itself, but what is far more significant is the fact that some of them will engage the Irish business community at the Dublin Web Summit."
But it's not just big name entrepreneurs attending F.ounders, Bloomberg, Goldman Sachs, NASDAQ DMX, Microsoft, and PayPal will be sponsoring the event.
Described as the "best tech event in Europe' by the Wall Street Journal and the "Davos for geeks" by Bloomberg Taoiseach Enda Kenny will also attend the event on Friday.