As some of you may know at this stage we've been working with a number of individuals and journalists over the last few months to assist them in online publishing.
One such project that we're really excited about is Football Pantheon – a site that provides objective analysis to demystify football's everlasting arguments. Football Pantheon (Facebook | Twitter) is owned and run by talented Irish sports journalist Miguel Delaney, with ourselves providing all the necessary technical infrastructure and expertise required. Since launching in June of this year, the site has achieved more than either party could ever have imagined, is regularly featured on The Guardian's football homepage as one of their "favourite things this week" and by year's end will fall just short of one million pageviews.
We've recently published part one of the 100 greatest football moments ever, which is already proving very popular.
We're working towards establishing other sites on our 'network' that will operate in a similar fashion to Football Pantheon – something which we think we'll appropriately call The Sociable Network. One such site is scheduled to launch in early 2012 with a handful of Ireland's top journalists involved – more on this later.
We open to suggestions and proposals for network expansion into other niche topics, so if you're interested drop us an email and we can discuss further.
In other Sociable news the latest edition of Click Magazine is out and this month we tell you who the most influential people on Twitter are (one of which tweeted us and broke the site for a few minutes – thank you).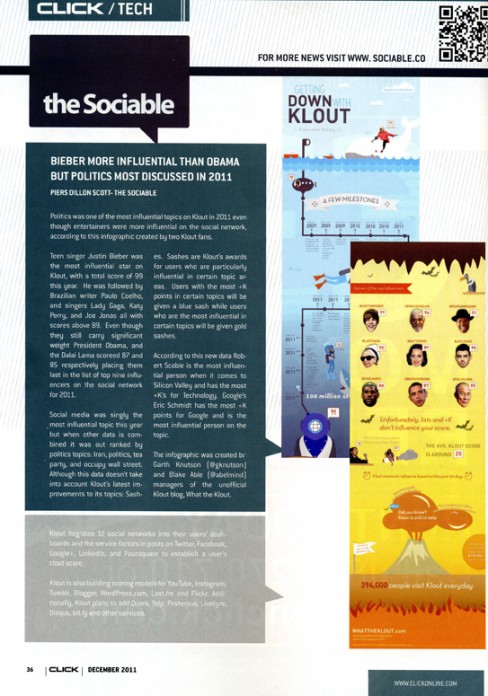 In this edition the guys at Click go through their top ten movies, games, and tech of 2011 and review the film The Girl with the Dragon Tattoo. Zelda's Skyward Sword also gets a great review, as does Assassin's Creed: Revelations. They get their hands on a PlayStation Vita, which we're jealous of. They also have a brilliant tech gift guide if you are looking for some last minute presents this Christmas.
Speaking of Christmas, have a great one!